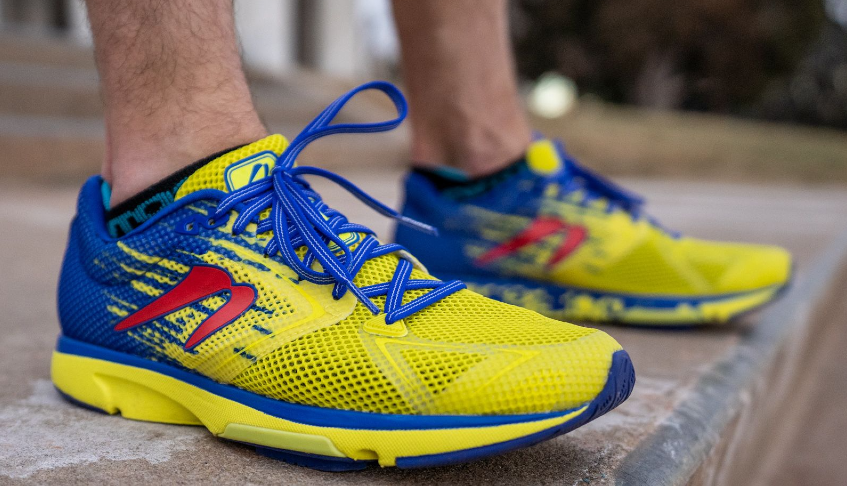 550 Kilometers in 13 Days!
29 June 2021
Interview with Roman Schultes – Newton Running Europe Ambassador
In the interview, Roman gives us a fresh insight into the challenge, and discusses each stage from the starting point in Langenfeld/NRW to  the finish in Amrum. Roman discusses planning, his motivation, the pain he faced, the stages he has to conquer and also about the fact that no runner is an island, even if the finish is!
Who is Roman Schultes?
...

 

is by profession

 

the owner of Marketing & Event // rslmedia
... is now

 

35 years old
...

 

lives in Langefeld
... is

 

in a relationship with Nicole, without whom the #roadtoamrum would not have been possible.
... a

 

passionate sportsman, originally a runner, but now "stranded" in triathlon.
Newton: Roman, you did this challenge once before in 2016 and had to stop due to injury! What motivated you to do it again? And what was different this time?
Roman: Yes, I tried it once before in 2016, but back then I wasn't that well trained and approached it less confidently. Unfortunately, I twisted my ankle 3 times and had such a thick foot that I couldn't even get into my running shoes. In fact, the Corona pandemic motivated me to try again this year, because I needed a goal. Sure, I've always run in the last year and a half, but without a real training goal, without competitions, I was really missing something. From the moment I started running the Challenge, around January/February 2021, I was more motivated because I had a goal - even though I didn't really know if the situation around the Corona restrictions would really allow me to run the Challenge.
Newton: How did you prepare yourself athletically?
Roman: I have been an avid runner for a long time. I used to run all distances up to the half marathon, then in 2015 I ran a full marathon. After that, however, I mainly ran 10-kilometre races and half marathons again. In 2017, I discovered my love for triathlon and, after a few short distances, I'm now training for the middle distance. The fitness was there, but I had to train for the long distance again, as my stages were supposed to be between 30 and 55 kilometers long. That's why I basically trained for a marathon. In contrast to marathon training, my long runs were around 39 kilometers. These were designed to build up endurance and to physically and mentally prepare me for long distances. My training focused more on endurance and strength, not speed. Occasionally, I also did a tempo run or a driving game now and then, simply to keep up the spryness.
Newton: How did you prepare for these stages logistically -and also in terms of equipment and stage splitting?
Roman: Because of the Corona situation, the preparation was quite complex. It was quickly clear that we would use our camper as accommodation because of the accommodation ban. At first we, me and my girlfriend Nicole, thought that we would just camp wild, but then we quickly realised that we preferred to use private parking spaces. We called our friends and somehow everyone knew someone who lived along the route. We stayed on driveways and parking spaces in front of houses, and were given power cables and water. We planned the route itself with Komoot and then divided it into stages so that it fit reasonably well, for example, we didn't have to walk two hard stages in a row. Looking back, we could have spread it out even more evenly, but it worked.
Newton: How did you approach the stage day, especially when body and head were not in such a good mood!
Roman: In principle, the stage days were all planned in the same way. We started the day quite comfortably with a good breakfast. Sometimes it was porridge, sometimes it was rolls. In any case, I ate a good breakfast. It is important not to run into a hunger pang early on. Food preperation was key for the first part of the stage. Nicole would help massage my body during stages, this aided recovery and alllowed my body to stay fresh throughout the stages . Nicole and I took look at the route, to find out where we could meet on the way. That was especially important on the days when I started running with a sore or tired body. It was a real motivation for me to know that Nicole was already waiting for me after 10 or 15 kilometres. Knowing that Nicole was there to ready to help me with taping gave my body that extra push when it was needed.  I usually started running between 10-11 am. At noon there was always a real break with lunch, loosening my legs and refilling my drinks. In the evening we cooked a nutritious and calorie-rich meal or got one from somewhere. Sometimes we'd also take a look at the place we'd just been to. And then it was time to sleep!
Newton: How many hours a day on average did you run? How did you manage your running time tactically?
Roman: On average, I ran for five to six hours a day. With all the breaks, the stages in total lasted up to eight to nine hours, depending on my form on the day. Tactically, I always tried to run the longer part of the course in the morning. I usually ran the first 20 km at a brisk pace. After the lunch break it was good to know that the second part of the stage wasn't as long. It was good to know you still had enough time to regenerate afterwards.
Newton: What do you think about when you spend so many hours with yourself every day?
Roman: I thought about that beforehand and got tips from many people about podcasts and music, because they always said: "You can't run without "entertainment". I found running without entertainment was much more fun. Yes, I listened to TKKG or Drei ??? twice in between to distract myself from my foot pain. When you're alone with yourself for long periods, it's hard not to focus your thoughts on every twinge and tweak. Otherwise, I would think ahead: What will it be like when the camping bus comes into view? What will the next day be like? What will it be like when I reach the ferry? That sort of thing. Sometimes, I thought about what else to do for the Challenge besides running - how to present the partners, for example. Once I even gave an interview on the way. Occasionally, I took photos or did an Instagram story!
Newton: You ran in Newton shoes. Which models were they and how did you manage with them on the road?
Roman: I had the Fate, the Kismet and the Gravity with me. I mainly ran the Fate and the Kismet. The Fate helped me with its dynamics so that I wasn't completely exhausted after the first two or three days. And the Kismet was a real support on days when I was tired, because it keeps the foot stable and is really comfortable because of the wider sole. 
Newton: You've been running Newton shoes for a while now. What difference have you noticed because of the extreme load?
Roman: First of all, the biggest difference was of course the distance and the speed. Even with my long runs in training. In the end, I ran an average of 6.30/km, so it was rather slow. Of course you notice a difference, because it's simply a different workload compared to normal training or competition. Above all, preparing and reacting to the next day in such a short time was a challenge. From day 2 onwards, especially on the first few kilometres, I felt the strain of the previous day. You simply don't run smoothly and the Newton shoes helped. Due to my running style and techniques my muscles and tendons became strained. Preparing in Newton helped my running style. My running style became more natural. Back in 2016, I never really considered my shoe choice however Newton helped me with the task in hand.
Newton: How was the feeling when you got off the ferry on Amrum and you knew you made it!
Roman: The good feeling of having made it started on the last stage. I knew I would make it, nothing could get in the way, because if need be I would have walked the last 20 kilometres. Amrum was waiting for me with wind gusts of 70-80 km/h and rain, but that didn't matter at all and didn't detract from the awesome feeling. And I was totally grateful! Grateful because my body cooperated so well, grateful that I have people around me on whom I can absolutely rely, who help me and support me. Basically we did it TOGETHER - great, perfect, thank you!
Newton: Will there be a #roadtoamrum 2022? Or do you have another project or challenge in mind?
Roman: No, there definitely won't be a #roadtoamrum in 2022! Generally I'm keen on such projects, but for now I want to run faster and shorter again. Maybe I'll do another project like this in one or two years, but not every year. You mustn't forget that it involves a lot of costs and you have to plan extra holidays - but holidays in which you don't recover. Maybe I'll do a smaller story with the bike sometime. My personal challenge right now would be to set a great time in a marathon, maybe the Berlin Marathon - I'm discussing that with my coach right now.
Newton: We're looking forward to what we'll hear from you next - it certainly seems exciting to stay with you. Thank you very much for taking the time for us, Roman!