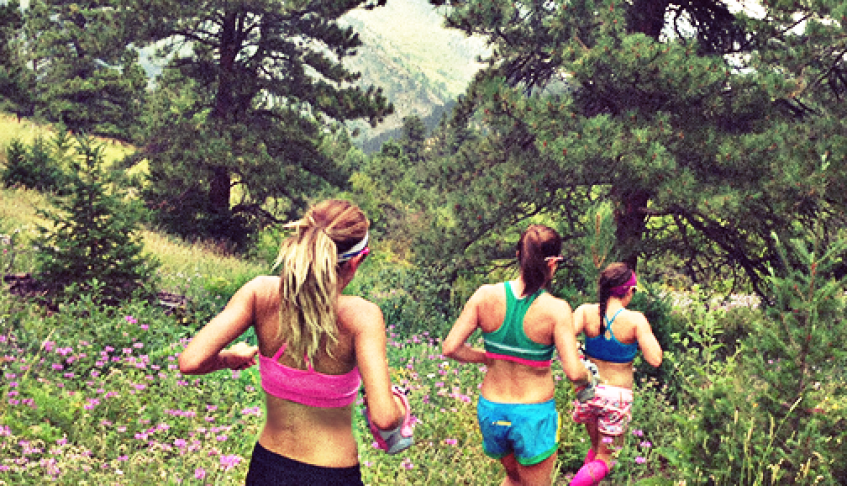 Bachelorettes Gone Wild
just for fun
newton running athletes
22 September 2014
Part Two
Sabina, Kara, Cody from nearest to farthest
Question: How did this not so average bachelorette party come about?
Kara: This is 100% Cody's idea. Don't let her blame it on me. She came up with the idea and we all kind of ignored it at first…but she's not someone who likes to be ignored. After hearing about it for a while, she told us one day that she found a great price on flights so we all caved and booked right then.
Cody: One morning a couple months back I nonchalantly said, "we should run the Grand Canyon." Working at Newton, it's easy to talk almost everyone into something crazy, so both Sabina and Kara were like "YES!" and then we booked a flight later that night.
Sabina: It was Cody's idea… AND I am easily convinced when it comes to any adventure! We were all sitting at our desk one day and she came up with this crazy idea and within the next 10 minutes our tickets were booked! The best part about all of this is on our very first training run she looks back at us and says "I don't really like trails or lots of climbing…."
*Apparently we remember past events a little differently….
Question: Do you have any concerns about this trip?
Kara: Serious concerns? No. My concerns are more along the lines of: 'will we be functional enough the next day for brunch and mimosas?' and 'how many times will Cody and Sabina use hashtag language instead of real words before I snap at them?'
Cody: My main concern would be that I really prefer running on flat terrain, that is paved. Kara and Sabina have both told me that I need to get over that…quickly.
Sabina: Yes! Cody and I will start singing lyrics to Spice Girls, and Kara will push both of us off a cliff! Oh and the fact we may run out of Tostito Peperoni pizza rolls within the first 10 miles… These are all real concerns of mine.
If you missed the intro to Bachelorettes Gone Wild…check it out here!