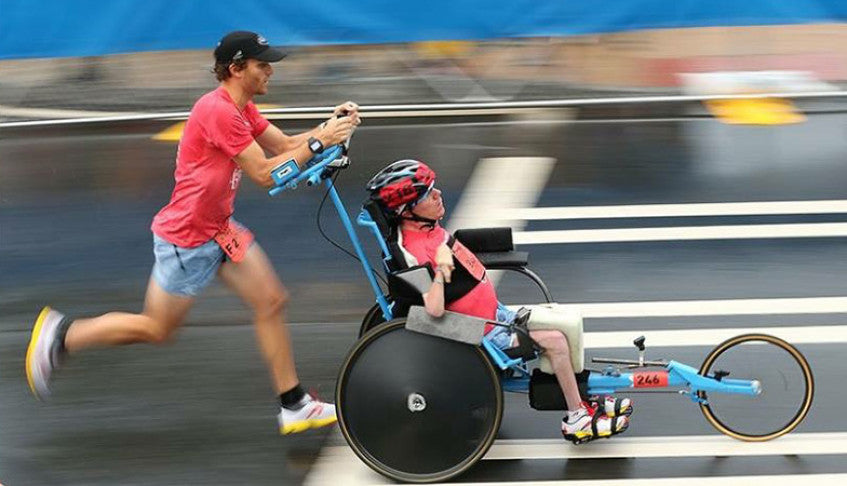 #Extraordinary – The Pease Brothers
newton running athletes
15 August 2016
Brent Pease was a swimmer growing up but really got into fitness in 2007, losing 30 lbs along the way. His younger brother Kyle Pease was born with cerebral palsy, a condition that affects his speech and limits muscle mobility, but, sure doesn't limit his dreams and ambitions.
When Brent finished his first Ironman in 2010, Kyle was mesmerized by the atmosphere at the race and thought to himself, "I should be able to participate in any sport or race like anyone else." In February of 2011, Kyle's dream came true. Brent pushed Kyle in a three-wheel wheelchair to the finish line of their first 10k together – but that was just the beginning of the Pease Brothers' #Extraordinary racing adventures.
About 25 events later, the Pease brothers decided to take on the ultimate test of endurance racing: an Ironman. It was September 2013, in Madison, WI. Brent pushed, pedaled and pulled Kyle for 140 miles, making the motto of the Ironman "anything is possible" come to life.  "When I'm out there with Kyle sometimes I forget that there's this extra weight. Kyle borrows my legs and I borrow his spirit and you know, that really helps us get through it," says Brent.
The Pease brothers began racing together not only to fulfill Kyle's dreams of partaking in races, but to inspire others with disabilities to pursue their dreams. Both Kyle and Brent know that adaptive equipment is costly, but feel that no child with a disability should be deprived of an activity they dream of doing. Founded by the brothers in 2011, the Kyle Pease Foundation provides assistance to families with disabilities for adaptive equipment, as well as promotes athletics within the disabled community. This #Extraordinary foundation has raised enough money to give scholarships to individuals for the last three years and has served over 60 families to date.
The Pease brothers continue to race and compete for their charity and continue to spread their philosophy on life that, "People with disabilities have no limits."
"Where there's a wheel, there's a way!"
The Pease Brothers race in Newton Running Distance Elite's.