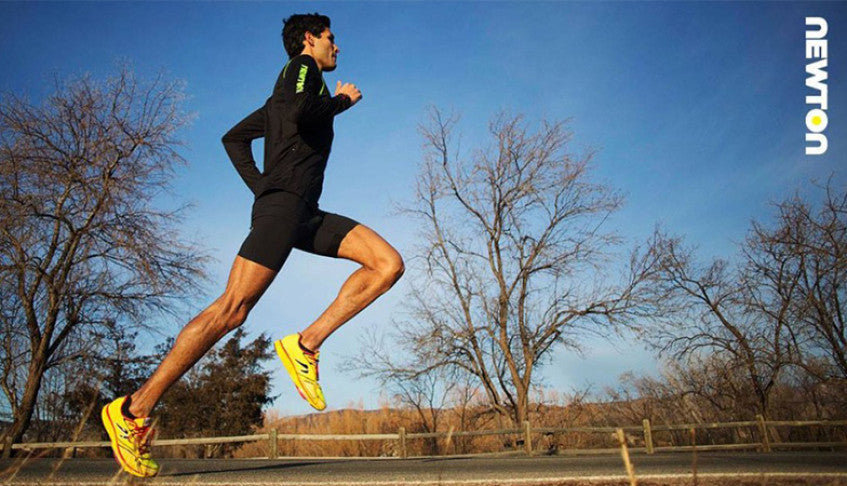 Fresno Pace
newton running athletes
27 April 2014
Don't be fooled by the quiet reserve of Newton elite team member Fernando Cabada—he's ready to race.
Stealth is one way you could describe elite Newton athlete Fernando Cabada. He is silent (when he's not ribbing his teammates) and potentially deadly when running. Determined is another apt description. As is the comeback kid. But, no matter how you describe him, he is fast. And, he's hoping his speed will place him in a top 3 position in the U.S. Olympic Trials for marathon in February, 2016.
            Far fetched? No. Not given that he placed 7th with a time of 2:11.53 at the last Olympic Trials, which took place in Houston, Texas in January, 2012. On that same track, he recently ran a personal best half marathon time of 1:02:00. This was good enough for him to make the USA team for the World Half Marathon Championships, which took place in Copenhagen, Denmark in March. The US team placed 7th overall.
These accolades come on top of a longer list, including the fact that he set the American 25-K record with a time of 1:14:21, and he has been a three-time US Champion.
But there is another motivator that is driving him to the trials in Los Angeles in 2016. Cabada grew up in Fresno, California. This is the place where he learned determination and where running, in a sense, saved his life. Nothing would be more satisfying than having a top 3 finish in front of the home crowd—nothing, except for wearing "USA" across his chest at the Olympics.
Fernando Cabada grew up in Fresno with a single mom and a dad who went in and out of prison. When he was in 3rd grade, his mom was awarded assistance from the Housing Choice Voucher Program Section 8, which meant that Fernando and his mom could move to a safe neighborhood that also had a better school. Cabada suddenly had access to physical education and sports.
"I was in 3rd grade and I went out and ran a half mile. I was second in my class. I was kind of fast. In 4th grade, I could go out for cross-country. My dad was pretty hard on me with sports, so I steered away from baseball and basketball. Running was the thing I could choose myself."
Running helped him to fit into a very affluent neighborhood and school system—think the Orange County of Fresno, where everyone drives a BMW.  Cabada's mom was on welfare, which meant he had free lunch tickets. Rather than stand out by using the tickets, Cabada chose not to eat. He went for years without eating much at school. "I wouldn't eat. I wouldn't start eating until I was in my Junior year, when my uncle would give me a job on the weekends. Then, I had $5 a day to buy something at lunch. People could see money in my hand. I didn't want to stand out so much.
"I was embarrassed, I didn't have the style of clothes everyone had. I was defensive and reserved. I wasn't like them, so if anything I was more segregated than ever until I was in high school on the cross-country team."
At the nationally distinguished Buchanan High School, Cabada began to dream about running with the senior team. "I would daydream for hours of running with the varsity team, so people would say, 'Who is that brown kid?' But these were just dreams, I didn't believe it would happen. It's like saying you're going to win a lottery."
In his Junior year, Cabada won the lottery so to speak, when he became nationally ranked and number 1 on the team. In his senior year, he was Athlete of the Year, beating out all of the football players and other athletes at the school.  After graduating in 2000, he attended college, something no one in his family had done before. Next, he jumped into the pro running circuit. But without a team of college friends to run with, running suddenly wasn't quite so enjoyable.
"In college, in senior year, you're going to these races to try to make as much noise as you can to continue your dream and you'll do anything to get it. But you forget, you have to keep working. It's hard to get it, but it's hard to keep it." After hitting some of his best times ever, he incurred some injuries and a sponsorship deal he had with another company ended in 2010. Cabada hit a slump. He considered hanging up his running shoes and headed to the oil fields of North Dakota to try to make ends meet. But once he got there, he realized, "I can't quit running, I'm too good." And he is.
Newton took notice of Cabada in 2012 after his seventh place finish at the marathon Olympic Trials in Houston. A relationship was forged and now surrounded by a team once again, Cabada's enthusiasm has increased as his times have dropped. Now, with Boulder, CO established as his home, the once reserved runner is finally comfortable in his own skin and is even known for his sense of humor and being vocal on the team. Although he admits, "I'm pretty honest and sometimes can be controversial."
But that edge is what has helped drive his running. He is the Newton Running elite team's fastest member. His plan is to get faster over the course of the next 21 months. "I had to have an edge walking to elementary school, because you were going through a neighborhood where you might get into a fight. This has helped me in my racing and life itself. If a situation is going bad, I can always put things in perspective." He adds, "For me in my world, I've already won in life. I didn't follow in my father's footsteps. Now it's all bonus." And hopefully, that bonus will payout on February 13, 2016.