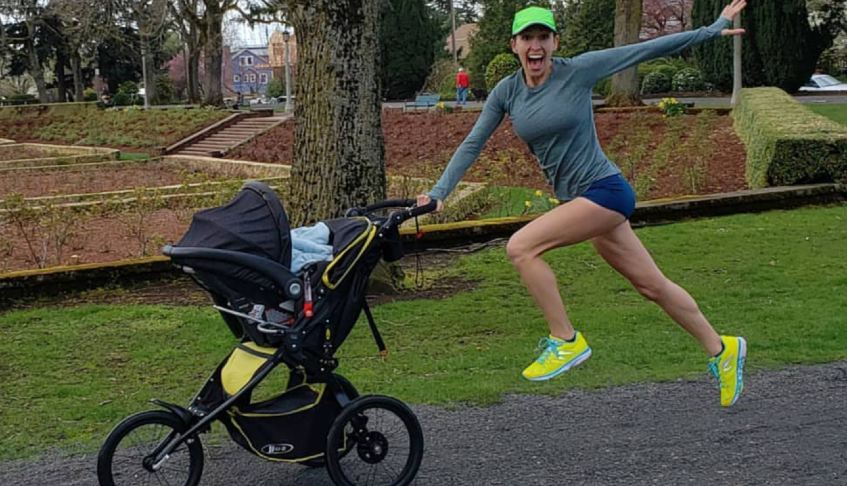 Road to the Olympic Marathon Trials
21 February 2020
Q&A with Lyndy Davis- OTQ Marathoner & Guinness World Record Holder
1. One week out from the 2020 Olympic Marathon Trials. How are you feeling? How have you kept the nerves at bay?
I am excited to see all my fast friends in one race! It feels like a big party. I've kept my nerves at bay by focusing on my quality workouts. I try to channel my strong moments in training to empower me on race day.
2. You set a Guinness World Record for Fastest Half Marathon Pulling a Hands-Free Stroller. How has your training changed in your preparation for the Olympic Marathon Trials?
I've been doing long runs more consistently now. I run a max of 90 minute pulling my baby in the stroller, so this season my baby has joined for my evening runs when I have double days.
3. Do you have a favorite workout that you do during your marathon build-ups? Has one gone especially well this go-around?
I love doing tempo pace because the effort is challenging without destroying me the next day. I feel really accomplished after 3x3 mile tempo workouts.
4. We would love to learn about your marathon fueling strategy. What products will you be using in Atlanta? 
I am a minimalist when it comes to marathon fueling. I have over done it in the past, so I take less fluid and nutrition than most marathoners. I use honey stinger gels (the basic flavor, nothing fancy). I take one a little after half way (mile 15) and again at mile 20. For liquids I take 1-2 sip of water 4ish times during the race. You do you, and this minimal approach works for me without risking getting a side ache from too much volume.
5. What is your go-to race-morning breakfast?
Hot water to warm me up (I get cold when I am nervous, not sure why), food: banana and oatmeal. I soak the oatmeal overnight so it is less fiber-y.
6. Thank you for your openness on speaking to postpartum depression. How have you coped in preparation for the trials? Do you have a tip for someone who may be sharing in a similar struggle?
Thanks for this question. My hormones leveled out a lot after about 9 months; as I have adapted to motherhood I have been able to observe more of the issues that can be triggering for me and how to respond during those difficult moments. I say "triggering" because, for me, certain situations make me feel more sad. With post partum depression, once I got sad, it was really hard to dig myself out of the hole. Being able to run each day, have a shower in peace, and sharing the challenging and depleting night shifts helped a ton. I had to learn that the endless "baby obstacles" are ok, and that I didn't need to worry if was doing enough. I think the biggest battle was allowing myself to let go of the feeling of control and instead be gentle with my expectations and know that the day will be tough at times. I practice being proud of myself. As parents we say "good job" or "yay, you did it" to our little ones, but we need to do that for ourselves too!
7. When did the Olympic dream start for you?
As soon as I graduated college NCAA running, I took a summer off running and focused on my career. Once I came back to running, I wanted to set a big goal and the Olympic Trials was the most challenging goal! I always preferred longer runs vs short sprint workouts, so the marathon played to my strengths.
8. What would you say has contributed most to your success in the marathon?
Consistency, keep laying a big foundation of work and mileage. Your legs don't forget what fast feels like!
9. No matter the outcome, you've accomplished a great feat in qualifying. What are you most looking forward to post-trials finish?
My family is going to Florida after the trials for a vacation and fun in the sun. After that I plan to do some half marathons in 2020 and hopefully one more marathon, but I have not decided which fall marathon, yet!