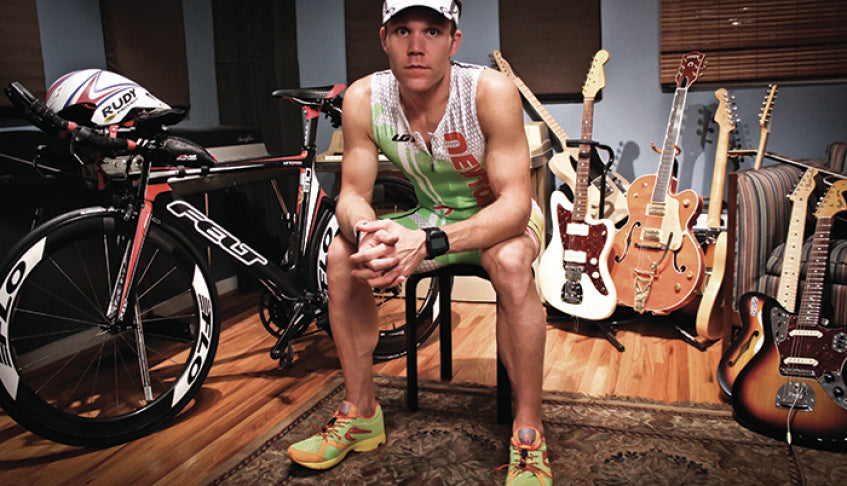 Keeping up with Sugarland guitarist, Thad Beaty
charities
newton running athletes
uncategorized
15 July 2014
When a health crisis hit his family, Newton Ambassador Thad Beaty, began to move his musical life toward new ways that mattered.
Thad Beaty loves music. Always has. When the guitar player for the country band Sugarland, is not on the road, he's in Nashville working at his day job, Sorted Noise, producing songs for movies. But in 2009, a curveball was thrown at him, when his mom was diagnosed with colon cancer. Since then, his daily routine has involved a lot more than music.
At the time of the diagnosis, the 5'10" Beatty was 34 years old and weighed 230 pounds. He says, "We went into panic mode. My brother, my wife and I and my mom all decided as a family that we could do better at being healthy. So, we immediately started researching the best diet for dealing with cancer," he says. What happened next, was something he never would have expected.
"We learned that a raw diet, greatly lowers your cancer risk levels. But we thought, 'good grief, there's no way we can do that.'" Yet, he and his wife bought a Vitamix blender and started having smoothies for breakfast and salads for lunch. And suddenly, they were 66 percent raw already.
"Before I knew it, I was fully vegetarian a few months out and the only thing left before I went Vegan was Greek yogurt—that was the last stronghold."
At the same time that his food transformation was taking place, Beaty started exercising.  While on the road with the band, he started to run. "I could take off running in the middle of nowhere." When he came home there was a pool in his neighborhood, so he started swimming. Next, he pulled out his old mountain bike. "I was doing a little of each and a little more and then something just triggered along the way."
Before he knew it, Beaty was Vegan, and his training turned to competing in triathlons—not just sprint triathlons, but Ironman triathlons, with his first in Arizona in 2012, then Kona in 2013. His 230 pounds quickly melted away to a stealth 160 pounds. In a relatively short period of time, his very Southern family had completely transformed itself, including his mom, who is now gluten free and vegan.
Along the way, Beaty started reading Newton co-founder, Danny Abshire's book, Natural Running: The Simple Path to Stronger, Healthier Running. "I started working on all the drills. Then I bought Newtons and hit the road. I was amazed at how my body felt and my times were way faster. I was hooked."
As Beaty started down the Ironman path, he started to consider the powerful correlation between sport, the music industry and giving back. First, he struck up a relationship with the Ironman organization. Then, he began to look for companies who shared his belief system of giving back.  A training partner and Newton athlete, Shay Eskew, shared with him the non-profit work that Newton was doing. "Once I realized our core values aligned well, I had to reach out." A partnership was struck, and now he says, "We have done some amazing things together and I think we will do a ton more."
Around this time, Beaty founded Musicthatmoves.org to encourage the music industry to give back in ways that are healthy for the community. His motivation was spurred by the fact that in addition to his mom's illness, the band's guitar tech, Kevin Quigley, was diagnosed with Lymphoma and lost his battle against the disease less than a year later.
"Health is holistic. It is mind, body and spirit. If you don't have a good balance of those three, then you are out of whack. I saw how harmonious endurance events and getting involved in social movements were together."
Now, Beaty and a team of about 20 people from the music industry are training for the Ragnar Relay from Chattanooga to Nashville in October to "reclaim their health".  Of his teammates, Beaty says, "They didn't all come from an athletic background and they want to make a change. So we're going on this journey together." Each member is doing the relay to raise money for a cause or non-profit of their choice. "What resonated so strongly with them is that endurance events become a beautiful vehicle to affect change. If you do it for a cause, it becomes super special."
Beaty and fellow Newton Runner, Bo Parrish, have also teamed up to form New Life for Newton, connecting gently used Newton shoes with cross-country and track coaches and inner city kids who are in need of shoes. They have enjoyed delivering the shoes themselves to these young running teams and spending an afternoon or day training with them. The list of initiatives Beaty has taken on is long and this is in addition to work and still training hard. Ironman Chattanooga in September is on his hit list for this year. But now with several races under his belt, he says, "It's not about the finish line, it's about everything you learn getting to the finish line and then that's a place to celebrate everything you've learned and to carry those lessons forward." For now, he's celebrating the fact that his mom's cancer is in remission.
You can watch Thad Beaty on ABC this Tuesday, July 15, on "Extreme Makeover Weight Loss." In the episode he worked with a woman who went from the couch to doing a 70.3 triathlon. Beaty says, "We had her rocking some Newtons."