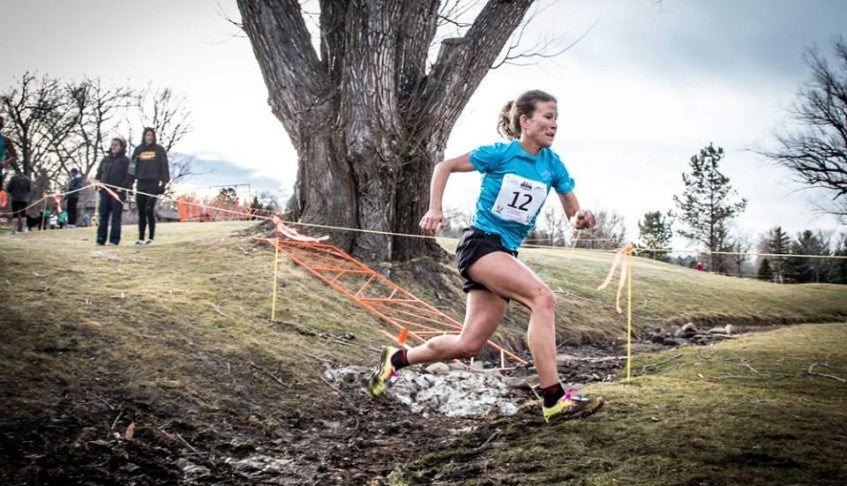 Melody Fairchild: So This is 40
newton running athletes
uncategorized
6 April 2014
When it comes to running, Melody Fairchild knows what she likes and doesn't like. For instance, uphills "yes," downhills "no," Newtons "yes," other brands "no." She should know, she has been running since she was 14. And we're not talking jogging. She was the first high school girl to break 10 minutes for 2 miles and from there her list of accolades is long.
Last summer she turned 40 and aged up to Masters. She quickly proved she would be a force to be reckoned with in this category with three wins last fall in the space of a month: first place at the USA Masters 5K Championships with a time of 16:51; first place at the 15K Masters National Championship; and 1st female, and 2nd overall at the Project Athena US Trail Half Marathon, which served as the half marathon national championships, in Moab, Utah.
Fairchild started 2014 with a goal to do all of the USATF Masters National Championships and a main goal of doing the Master's National Championship in the marathon at the Medtronic Twin City Marathon in Minneapolis in October. Obviously, age has not diminished ability nor competitive spirit.
So far this year, Fairchild has taken 2nd in the half marathon in Melbourne, Florida and 2nd at the USA Cross Country Championships in Boulder, both in February. Results most runners would consider great. But, Fairchild doesn't like to lose. "In the Twin Cities, I plan on being a contender to win and I would like to win. I will have my work cut out for me, there are a lot of really good Master's marathoners out there, including the two women who I have been beaten by already this year."
Although Fairchild makes running look easy, she has had her share of bumps in the road. Looking back on her career, she credits her ability to still run strong to the fact that she took a break from running from about the time she was 27 to 37. This was at a time when many of her running colleagues were pushing the envelope and taking their careers to another level professionally performance wise. Her body was telling her to do otherwise. "I had to really listen to my body, and it was telling me to stop running. I had massive sciatic nerve pain and my feet were hurting. Rather than getting surgery on my feet to keep running, I went an alternative healing route." Fairchild focused on getting healthy.
Along the path to healing, Fairchild also found a friend in Newtons. "I've been told I have a dropped metatarsal head. I thought it was a neuroma." No matter how you cut it, it's painful. "I also have large bunyans, which is why Newtons are great for my feet, because they have a nice wide toebox. With other shoes, I would have to cut them open because there was too much pressure on my feet."
Fairchild used to race in the Distance Elite and train in the Distance U, which she loves because it's so light. But then, last summer, she discovered the new Energy—not a shoe you would immediately pair with an elite athlete. " I ran a half marathon in Costa Rica last summer and placed 2nd. Normally, I would take a racing flat, but I ran the whole race in my Energies."
Fairchild says, for any Newton lovers with any sort of forefoot issue the Energy is just a fabulous option. "I still feel the energy return that you get from a Newton, but it's just so much more gentle on the forefoot, especially if you have a neuroma or a bone bruise."
            Listening to and looking after your body, especially as a runner, is a message Fairchild now loves to share with the next generation of athletes. When she's not training and racing—or planning for her wedding this summer (it's true!)—she's busy coaching across Boulder County. She runs after school cross-country and track programs, and running camps for girls in the summer. "My girls running camp in the summer is a passion of mine.  I know the pitfalls that befall young women. I help my girls gain a perspective of themselves and their life. It is a long winding road."
As she runs from job to job and race to race, Fairchild knows that winding road well. But at this stage in life, she's loving every minute of it. "It's so awesome to be paid to run. Every day I get up and train and look forward to the next race I have planned. I definitely don't take it for granted." She adds, "For someone my age, competing at the level I am, to have the support from a shoe company, is off the charts."