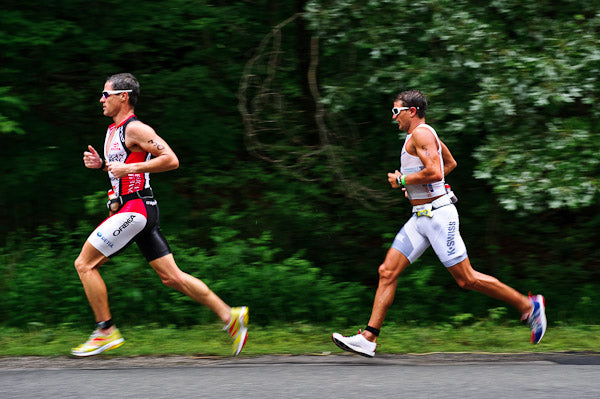 Monday Race Hangover
at the races
14 June 2010
Here in Boulder we had a rainy weekend but still pulled off a successful Natural Running Symposium on Saturday evening and form clinic in a downpour next to the raging Boulder Creek on Sunday morning. Soon we will have video footage available for those who could not attend. The weekend proved successful for Newton athletes as well.
Six days after winning REV 3 Quassy, Craig Alexander grabbed another win at the Boise IM 70.3. Despite nasty cramps, he came over the finish line with in an exciting finish with only 10 seconds to spare. Tim Berkel placed 3rd and had the fastest run amongst the top 5.

Look at that perfect form!
Catherine Liversidge kept her asthma in check and took 1st in her age group (40-44) and 4th overall at the Wasa Triathlon in British Columbia.
Two weekends ago Tatiana Vertiz won her age category (20-24) at the 70.3 in Hawaii and got a 70.3 Half-marathon PR of 1:37. After a few sprints, the next big race for her is the Vietnam 70.3.
Over in Europe, Konstantin Bachor won Kasier's Bonn Triathlon (3.8K, 60K, 15K) beating pro athletes such as Nils Goerke and Thomas Hellriegel.
Newton women were the ones who threw down at the IM 70.3 Blackwater Eagleton. Michellie Jones had her best race of the season and placed 3rd, while Natascha Badmann placed 5th.
Guy Petruzzelli did his first outdoor tri in 7 years on Saturday—The Northe Pointe Tri in Illinois. Despite intense heat, humidity, and a dump truck pulling out onto the road in front of him on the bike leg, he placed 3rd overall in the tough field.
Hope everyone else has a successful weekend, and if you raced be sure to comment and share your stories whether they are wins, PRs, or finishing your first race.