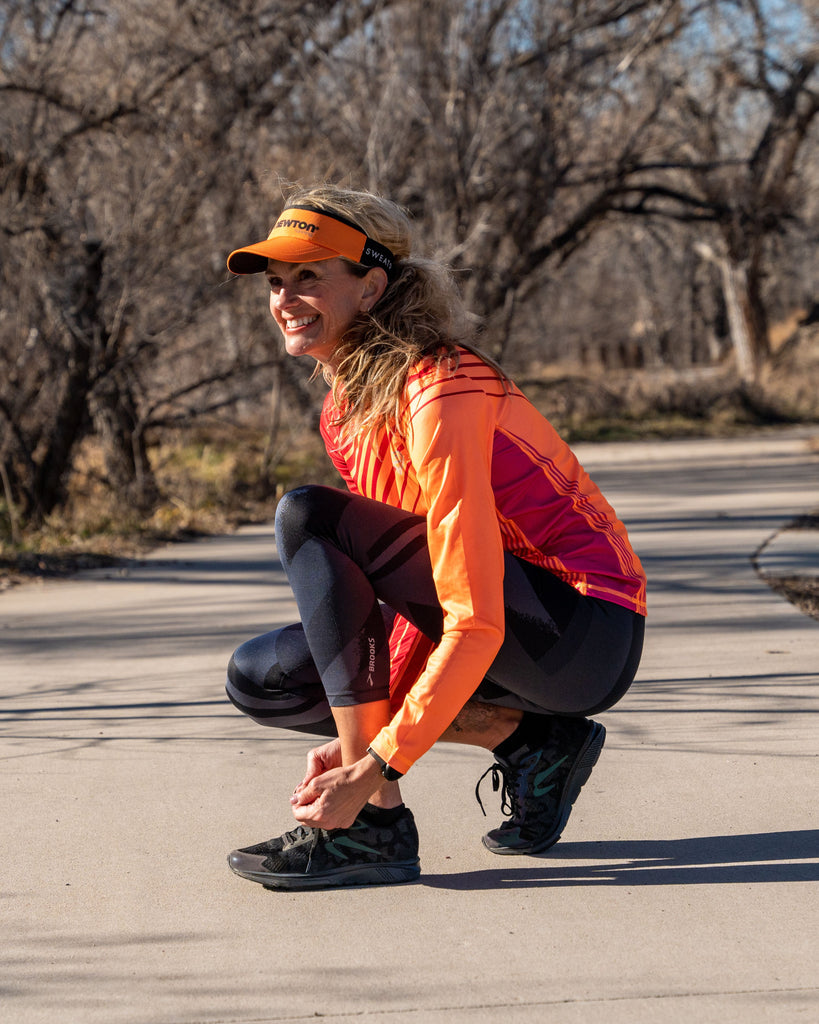 Running Your First Half Marathon
at the races
behind the scenes
just for fun
newton running athletes
race reports
training tips
30 March 2023
For the first time half marathoners, we are here to provide some tips and tricks for your maiden 13.1 mile journey. There was no one better to ask for advice than Newton Ambassador, and the finisher of over 100 Half Marathons, Gretchen Schoenstein.  We'll let Gretchen take it from here....
Do you feel that energy in the air?
It is not just spring, it's full fledged running season. The spring in your step, as it were.
Now what if it's your first half marathon?
Oh wow, how lucky are you? Do you realize what an incredible accomplishment it is to run a half marathon?
TL;DR
Trust your training
No new things to your routine
Stay curious and feel the JOY
Still reading?
Are you ready for the feeling of euphoria, the high, the runners swagger at the finish line?
Capture it. Write it all down. Start writing it down now. There is nothing like your first half marathon.
And for me personally, while I've run well over 100 half marathons at this point - they all still feel almost like the first. Because I'm still in awe, still amazed I can do it all and I take nothing for granted. Not one step. And yes, I still get nervous too - it's normal and part of the experience!
What's awesome too, and some might have a hard time believing this, is I absolutely and constantly find something new to marvel over, experience, keep me present. Whether it's a course I've never run because a city changed it up, or I forgot something and have to adjust, or circumstances surrounding the race are new, or something I couldn't have planned for happens during the race - it keeps me on my toes and keeps me in the moment. All that to say, yeah, I know a thing or two about the experience of a start line and a finish line.
So what about training? Ideally you've got your routine - routine is key. It keeps you steady in the midst of the a chaotic race weekend. Stick to your routine. If you don't yet have one, create one - a schedule of your running, testing out what works well for your stomach for race day. Include a plan for how you will recover. I know some people use their google calendar for scheduling runs, giving them alerts and reminders, or using Pinterest and Instagram to find inspiration and learn new tools.
Speaking of routine, try not to change it up on race weekend. We've all heard the advice and it's true - don't do anything new like new shoes, new nutrition, new something on race weekend. Like I said, routine will keep you steady in the whirlwind of energy around the race weekend.
Between your training and routine, try on this Phil Jackson quote: "The most we can hope for is to create the best possible conditions for success, then let go of the outcome."
AKA
Everything you need is within you on race day and you can adjust when you need to.
Finally, stay open and stay curious. See what the morning brings you - what thoughts do you have pre race. What's your motivation, your why? What are you feeling at the start line? What do you notice along the course? What do you notice about your body and where does your mind go? What lights you up as you step along, one after another. Where are you finding joy, fun, where is the awe that you're doing this land? Can you compete with yourself? Are you noticing others? What, you amazing runner, do you experience as your run across that finish line?
Celebrate! Celebrate every half you run, always. It's important to mark them and have folks bear witness to each race. Despite the name 'half', it's a full effort, and a full accomplishment and deserves to be fully celebrated.
Whether you're a week out, a month out or a season out - you got this!
Remember there is magic on the other side of fear.
Tips:
1) Have grace for yourself. Best way to do so? Pause and breathe.
2) Have a light, nimble touch on goals - know that you can pivot when need to.
3) Every. Step. Counts. (as does every mile) With each step is the possibility of joy and awe.
4) Listen to your body - *you* know best. Find that voice that tells you when to push and when to let off the gas.
5) Create your own finish lines - set smaller goals to achieve to keep the momentum going.