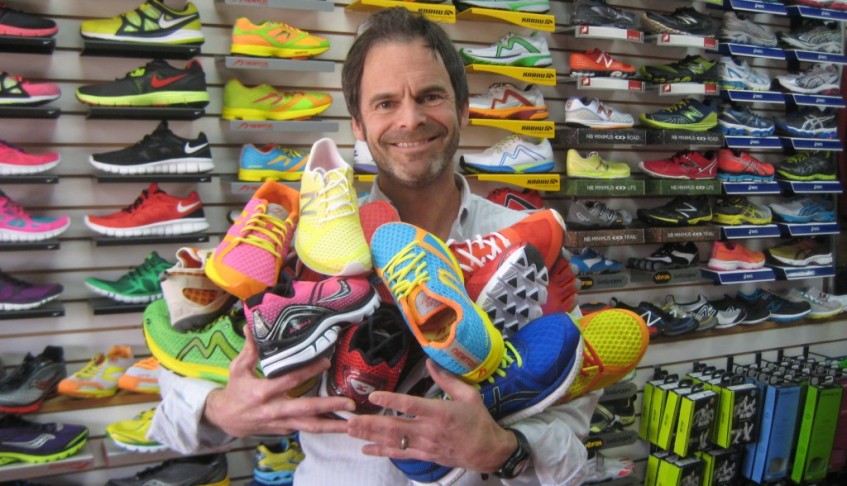 Taking Chances With Gear Running
behind the scenes
fitness
learn to run clinics
30 July 2013
In 2009, Paul Horan took a chance — a big chance. He and his business partners bought the oldest running store in the Twin Cities area. The store, Gear Running is based in Edina, Minnesota, had been the "it" store in town from 1985-2006, but when the store owner started to step away to pursue other personal interests, the store began to lose its footing in the market. Horan had been an avid runner since high school and had at one point run for the Gear Running store team. He also had worked in clothing retail for most of his career and was looking for a retail opportunity to call his own. When the chance to buy Gear Running presented itself, he jumped on it.
Horan's own market research had turned him onto "natural running". He understood that it wasn't just a fad, but a trend that would play a role in the future of the running market. "I thought the Newton technology was fascinating, how they spent so much time trying to mimic the barefoot gate, while still being substantial under foot. And we were lucky that our inventory levels were such that we could bring in a lot of it, and bring it in right away." Horan hoped that a new brand like Newton Running would help him to differentiate his store from his competitors
Horan's differentiation plan paid off, Newton became Horan's number one brand after the first year he carried it. Gear Running has in fact sold more Newton shoes than any other storefront.
Thanks to many years spent on the retail side of the clothing industry, Horan says, "I had very good experience in retail and great connections as far as a customer base." When he changed to Gear Running, many of his former clothing clients, began to visit him at the shoe store. Others, aside from his competitors, were also happy to see him take over the store. Many local runners had fond memories of the store when it was doing well. "People would always say, 'Gear Running. I love that store,'" says Horan.
And his customers loved Newton shoes. "Every day, I was open jawed at the number of people who came in because of Newton shoes or who were turned on when they saw the shoe. We did well from the get go. And it kept building and building and building." And, it's not always your typical elite runner who is into minimal running. "We have guys all the time, they don't appear to be the kind of guy who would run in that type of shoe. Suddenly they're all intrigued."
"We have a former NFL hall of famer who has bought about 12 pairs. He thought his running career was over. He's a bigger guy, but in great shape. He heard about Newtons. He bought one pair and then came back and said 'I need two more pair,'" explains Horan. "We have a lot of customers who have had great improvement with the Newtons and feel like they can run again. And the 30-day guarantee is a nice safety net to have in your back pocket."
Horan says there is another group of 10 to 12 women who walk around the nearby lake. "They all have the pink Newton shoes. They're walkers, but they love them." He adds, "The shoes sell themselves to a degree because they're so colorful."
The other secret to Horan's success is a partnership he founded with Team Ortho, the largest race organizer in Minnesota. "We're their exclusive retail partner. So when we go to their expos, we're the only retailer there." Horan explains that every race has a Facebook page, and Horan has run multiple contests on these pages giving away a pair of Newton shoes. "They will simply say, 'Like' this page to be eligible to win a pair of Newtons. And just one of those pages gets around 10,000 'Likes'." He adds, "You also get all of these comments. For the most part it's a love fest, so then other people think maybe they should try them out." Every time a new product comes in Horan will have Team Ortho give away a pair. "They'll post the picture and people are just like 'those are the coolest!'" He sold 200 pairs in December last year as a result of these social media giveaways.