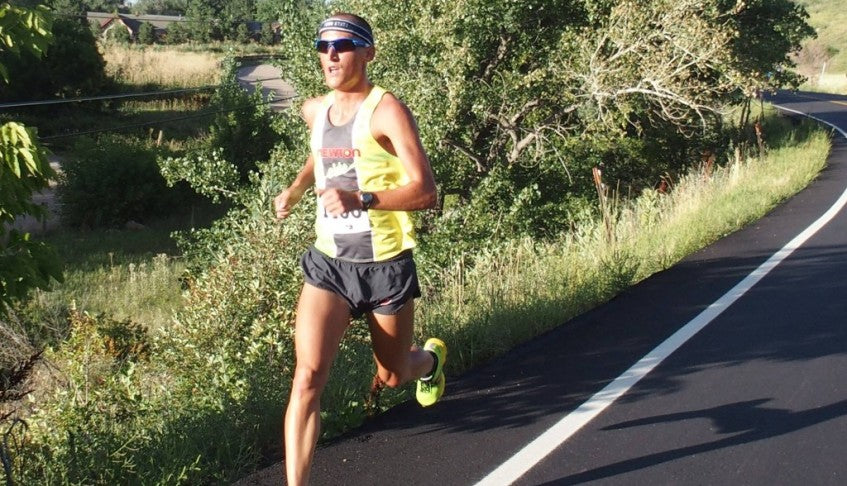 Tyler McCandless's Balancing Act
newton running athletes
22 August 2014
With the Olympic Marathon Trials and finishing his Ph.D both on the horizon, Tyler McCandless talks to us about balancing work, running and his drive to give back to the people of Kauai.
As the 2014 Kauai Marathon and Half Marathon approaches (it takes place August 31), we caught up with Newton runner, Tyler McCandless, who has won the Kauai Marathon three years in a row. This year, he'll run the Half Marathon, while also focusing on the Kauai Marathon Kids Foundation.
Catching up with the 27-year-old McCandless in any context (not just running) is not necessarily easy. The former Penn State All-American runner, turned pro, qualified for the Olympic marathon trials at the Twin Cities marathon last October. But in addition to his training, he also is currently working on his Ph.D. through a collaborative research program run between Penn State and the National Center for Atmospheric Research in Boulder, Colorado. He holds a BS and Masters degree in Meteorology from Penn State.
But being busy is what McCandless prefers. He tried taking a break from school and just focusing on running for a time, but he says, "I actually didn't improve much in those two years. It took me going back to school to start improving again." Now, working, running with a new coach (Steve Jones) and giving back to the people of Hawaii, McCandless has found his best balance yet.
Newton: You took time off from academics to run, but then decided to go back to school. Why was that?
McCandless: "I think everyone needs a balance. For some people, the balance is single focus that's all they do—think about running and what they eat and how they sleep, it's all encompassing. For me, I tried that and I did the best I could and it ended up being more stressful and taking the fun out of it. With my academics it took the stress off and now the running is the funnest part of my day. It makes me someone who enjoys the sport for the purity of it."
Newton: You've noted your new coach, Steve Jones, has also helped you to enjoy running more as of late.
McCAndless: I officially started the Ph.D. program January 1, 2013. But it's kind of like 3 things happened at once. I restarted my Ph.D. program and then a few months later I got Steve Jones as a coach and 2 months later I signed on with Newton. It was a great combination: Newton made me feel like I was competing as part of a team and a family again; I had a new coach who believed in me and that I could do great things; and, I was part of a Ph.D program that set my focus not just on running and made me more well balanced.
Newton: You have a special place in your heart for the Kauai Marathon and the work you're doing there. Can you tell us about this?
McCandless: I have won the Kauai marathon three years in a row. Every time I leave the island, I come back a better person. It's a beautiful place and people are friendly, it makes me feel very empowered to give back to the people who have been good to me.
This year, I am doing the Kauai Half Marathon to raise money for the Kauai Marathon Youth Running Program. It's a year-round running program and mentorship between the high school and elementary school. The kids run together, tally their miles, and really get a sense of accomplishment. I set a goal for running the half marathon in an hour and 5 minutes, to raise $13,100 for the program.
The overall goal is to put on a 5K in the spring as a build up to the Kauai Marathon in the summer. With the 5K, we also want to put on a health and wellness expo to teach kids about nutrition and science and full-body wellness. I have been working with Healthy Learning Paths. They work to empower kids to live healthier lives through in-school curriculum and after school activities. One of the top diseases is obesity, and with running, we can be really powerful and make a difference in our communities.
Newton is donating 50 pairs of shoes to kids participating ing the program. This is what I love about running for Newton. The socially responsible aspect of the company is something I take pride in. It's more than a shoe company. They put shoes on your feet and you wear their name, but it's more like you're competing for a family that is trying to do good in the world and make it a better place which makes running even more fun and gives you a bigger purpose.
Newton: After Kauai, what's next?
McCandless: I'll do some Grand Prix races. I'll go back to Twin Cities this fall. It's the US Championships and my goal is to try to win. Last year, I had the same goal and I faded over the last 10K or so. I want to establish myself as a contender for the Olympic trials. But even if I make an Olympic team and I look back on what I've done in my career, what I've done in Kauai is just as powerful to me—that I was able to make an impact in a powerful way.
Newton: In closing, can you share with us your favorite running-related moment?
McCandless: When I was in Kauai for the second time, the night before the race, I was going to make banana pancakes and I had run out of bananas. I went to this farmer's market, and I was browsing and some kid starts yelling, "Tyler." Then, he says, "Thanks for coming to our team and speaking to us about running," and he handed me bananas. They are expensive. What are the odds that he knew I was looking for bananas? I was blown away by the generosity—I was speechless.
I'm trying to keep a more balanced approach to running, where you're running the absolute best you can but having the most fun and making the biggest positive impact.