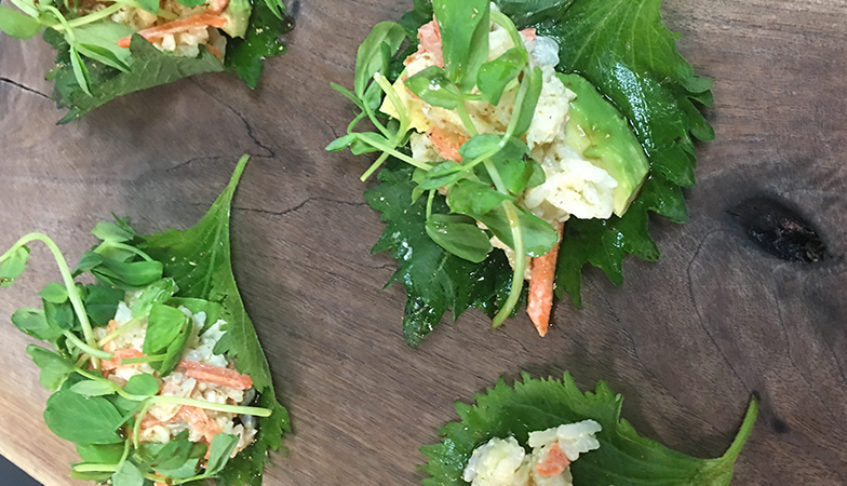 When Worlds Collide
newton running athletes
21 November 2017
A conversation with Harvey Lewis, Ultra Running National Champion, Vegan, Newtonite.
And Justin Cogley, Executive Chef, Former Professional Figure Skater, Current Ultrarunner, Newtonite
The conversation started with Harvey giving an outline of his daily routine:
"I average about 90 miles a week across the year but have been pushing closer to 100 miles a week. I've commuted back and forth to work both ways running for over 4 years now, so typically it's important to eat something quick in the morning unless it's a weekend, and then I can make something after a morning run for a brunch.
I often make sandwiches for lunch or take leftovers because it's fast. I live alone in the city Monday to Friday and with my fiancé and her kids on the weekend. I often eat out Monday to Thursday because it's not much more and it's convenient. I do some longer runs in the evening 10-12 miles a few times a week when I'm not in a taper or recovery, and longer runs of 20-30 miles on the weekend this time of the year. I just finished a 241 mile run this week but feel pretty good thanks to my Newtons and good foods."
Justin responded with a daily meal plan that fits into Harvey's Vegan diet, active lifestyle, and preference towards quick and convenient meal options:
Breakfast
 "What I like about this dish is that both Harvey and I don't have a whole lot of time in the mornings. You can make this ahead of time and the base will keep in the fridge for 4 days. To  rewarm just heat up and thin out with more soy, water, or nut milk of your choice. It is healthy and I find it a nice way to warm up on a chilly morning."
Amaranth cooked in chamomile tea, chopped toasted nuts, cashew milk
4 cups water
1 Tbsp chamomile tea
1 cup amaranth
1/2 cup cashew milk
1 Tbsp maple syrup
chopped toasted nuts (almonds, cashews, walnuts)
*First bring the water to a simmer and steep the loose leaf tea for 4 minutes. You could sub 2 tea bags of tea also. After the tea has stepped strain out the loose leaf tea, if using the tea bags just pull out. Now use this flavored base to cook the amaranth in, string every couple min until you have a nice porridge. Next, add the cashew milk and stir in until combined. Finally, finish with the toasted chopped nuts and maple syrup.
"I love this for a mid-day smoothie, it will help you not snack and hold you over to lunch/dinner. Plus with some pre-planning it takes minutes to put together."
Avocado, Frozen banana, maca root, almond milk, toasted sunflower seed
(1 serving) plus extra
1 avocado peeled and pitted (I prefer the hass variety)
½ cup almond milk
1 Tbsp powdered maca root
1 Tbsp agave
2 frozen sliced bananas (I just store in zip lock bags)
a handful of spinach
a small handful of marcona almonds
a small handful of toasted sunflower seeds
*Blend all the ingredients in a blender and give it a try. You can always thin out with some more almond milk if needed.
Lunch
"Harvey Mentioned that he run commutes so this can easily be transported and built on your lunch site or even made into a salad. Everything can be made ahead of time and just takes some pre-planning. Then it is really easy to throw together last minute."
Shiso wraps with rice, pine nut "mayo" avocado, parsnips and carrots
4-6 whole Shiso leaves (Whole foods or Asian market)
1 cup cooked rice
3 Tbsp pine nut "mayo" recipe below.
1 ripe avocado (sliced)
1 parsnip (peeled and grated)
1 carrot (peeled and grated)
hand full of sprouts (daikon, alfalfa, or pea)
dash of Soy (Braggs)
a dash of chili oil or hot sauce of your choice
Salt to taste
*First take the cooked rice and put into a bowl and mix with the pine nut mayo, grated carrots, grated parsnips, soy, hot sauce, and salt.  First, lay the Shiso leaves on your work surface and spread the rice mixture on top. Next, add the slices of avocado to each one then top with the chili oil. Finally add the sprouts or greens to each one. You can pick up and eat like a taco!
Pine Nut Mayonnaise
Makes 1 cup
1/2 cup raw pine nuts, soaked for 3 hours in hot water and then drained
1/4 cup filleted water
1 Tbsp Olive oil
1 Tbsp fresh squeezed lemon juice
Salt and pepper to taste
*In a Blender, add the pine nuts, water, olive oil, lemon juice and blend until smooth. The puree will get thicker as it cools. Make sure you season to taste.  Chill and then this will last 4 days in the fridge.
"Finally Harvey mentions that on the weekends he has more time to make some meals. This sauce works great and can be used for a number of different ideas. Again it is something that he can make ahead of time and just heat in the oven."
Celery root, apple, and mushroom enchilada sauce
The sauce serves 4.
For the Sauce.
3 tablespoons olive oil
1/4 cup Spanish onion, diced
1 each shallot (peeled and diced)
1 each apple (peeled and diced) Granny smith works well
1 celery root (peeled and diced)
1 cup of Crimini, portobello, chanterelle, or black trumpet mushroom (cleaned and chopped)
2 teaspoon toasted cumin (ground)
1 teaspoon toasted fennel seed (ground)
1 or 2 each dried chipotle pepper (or your favorite)
a few drops of apple vinegar
salt to taste.
water or stock to cover
*Warm a medium size pot over low heat until warm.  Next, Sweat the onions and garlic in the olive oil for about 5 min until they soften. Next, add the apple, celery root and mushrooms. When the vegetables start to release their liquid add the spices and the peppers. Finally, cover the vegetables with water or stock and let cook at a simmer for about 20 minutes. After 20 min or until all the vegetables are soft blend in a blender until smooth. Taste the sauce and adjust the seasoning as necessary with salt, pepper, and vinegar.
"Now you can roll your favorite vegetables in warmed corn tortillas or even sliced celery root. I like cauliflower, mushrooms, celery root ect… Put the enchiladas in a baking dish and cover with the sauce. Now you can add some vegan grated cheese, herbs, fried pumpkin seeds then bake in a 350 degree oven for around 20 min. Enjoy or chill and save for the next day.
"If you have more time, here is a fun brunch idea that you can have the kids help with:"
Chickpea pancake, avocado, sesame, bok choy
1 cup chickpea flour (Bob's Red Mill)
1/3 cup all-purpose flour
3/4 teaspoon salt
1 1/4 cups milk
1 Tbsp extra-virgin olive oil
1/4 cup water
melted unsalted butter, for brushing
*In a medium bowl, mix the chickpea flour with the all-purpose flour and salt. Whisk in the milk until smooth. Whisk in the olive oil and let the batter rest for 30 minutes. Whisk in the water.
*Lightly brush a 7-inch or similar pan with the butter and set it over moderately high heat. Pour 5 tablespoons of the batter into the pan and swirl to coat the bottom. Cook for 1 minute, or until brown around the edge. Flip the pancake and cook for 30 seconds longer. Transfer to a large plate. Repeat with the remaining batter. If you are cooking just for yourself you can reserve the batter in the refrigerator for a couple days.
 INGREDIENTS serves 2pp
1 each avocado halved and sliced ( I add a squeeze of lemon and salt)
3 tablespoons cooking oil
3 scallions including green tops, sliced thin
1 teaspoon grated fresh ginger
1 clove garlic, minced
2 small heads of baby bok choy (about 3/4 pound), cut into 1-inch pieces
2 cups of baby spinach
1/4 teaspoon fresh-ground black pepper
Salt to taste
1 tablespoon sesame oil
1 tablespoon sesame seeds
In a medium cast-iron or ovenproof nonstick frying pan, heat the cooking oil over moderate heat. Add the scallions, ginger, and garlic and cook, stirring, until fragrant, about 30 seconds. Add the bok choy and cook, stirring, until the leaves wilt, about 2 minutes. Add the spinach and the salt and continue to cook, stirring occasionally, until the vegetables are almost tender, about 3 minutes more. You can also chill and save for another day.
Plating.
Put down one of the chickpea pancakes on a plate or pan. Next, top the pancake with the cooked spinach and bok choy. Add the sliced avocado  Finally,  Drizzle the sesame oil and sesame seeds over the top and around.
*Harvey Lewis is also an ambassador for ROADiD. Don't forget, with any purchase made on Newtonrunning.com for the month of November, you can redeem a $10 Gift Card to ROADiD!
Check out Justin Cogley's Instagram to find more recipes.
Visit Harvey Lewis's Facebook to follow him on his 100+ mile running journeys.