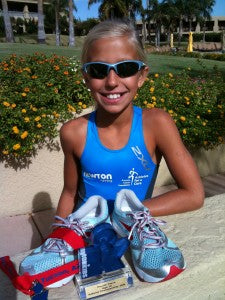 Winter Continues her Winning Ways
newton running athletes
9 October 2009
This is a little belated, but Newton Running would like to extend a hearty congratulations to Winter Vineki, who finished in fourth place in the 10-year-old age group at last weekend's IronKids National Championships in Tucson.  She qualified for Nationals by taking 1st place at Ironkids Carmel, IN, this summer as well as taking 2nd place at IronkidsSan Diego.
Winter has raised over $37,000 for Athletes for a Cure, in memory of her father who died earlier this year from prostate cancer. Newton is incredibly proud to support Winter!
And here's another shot of Winter with her friend Kyle. Kyle's dad, Dave Deschenes, is one of the lucky ones who was diagnosed at 37 with prostate cancer and is currently cancer free. Kyle races with Winter for Athletes for a Cure. He placed 5th at Nationals for the 12 y/o age group.  Both are big fans of Newtons, Team Winter Oakleys, Athletes for a Cure and Team Winter.