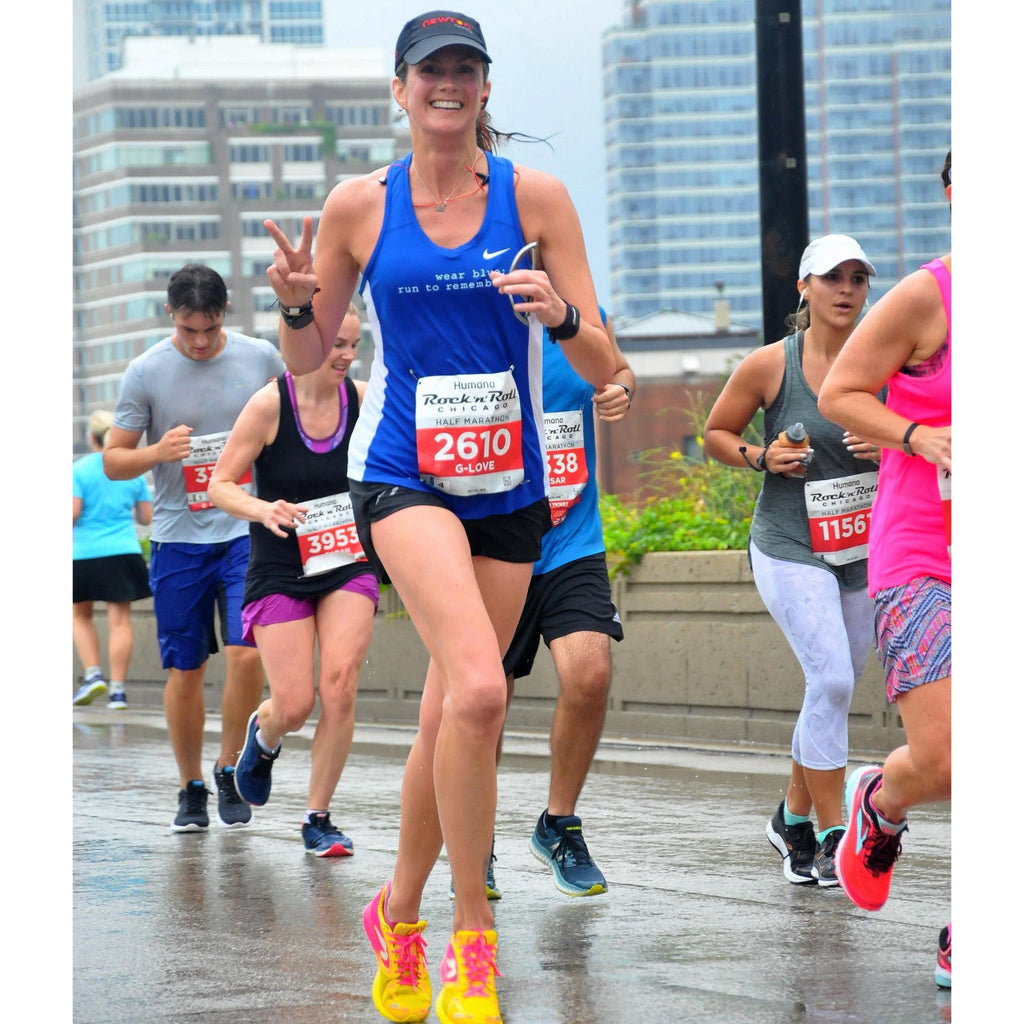 100 Half Marathons in Newtons, a Gretchen Schoenstein Story
at the races
education
fitness
newton running athletes
social responsibility
testimonials
7 October 2022
I've lived with multiple autoimmune diseases most of my life. When I was diagnosed with sarcoidosis, which happens where the immune system mistakenly attacks the lungs and in my case also my joints, the doctors said I'd never run again (which was fine, I wasn't a runner. Then.) But a few years later, needing a goal during my healing I set my sights on a goal: run a half marathon. Then I ran four more.
My first five half marathons were in two other shoe brands that-shall-not-be-named. That first year was tough, even while it was inspiring. I needed weeks of recovery after every race. No amount of ice or anti-inflammatories could speed up the recovery and healing. I of course was looking for anything and everything that could support me running these races while living with sometimes debilitating pain and exhaustion.
After my 5th half marathon at the end of 2010, I was complaining to some runner friends about how much pain I was in. One suggested Newtons. I'd never heard of them but was willing to try anything.
I looked up Newton and learned they were designed by a scientist in Boulder, CO. They were runners who wanted to make a different kind of running shoe. One with innovative technology that reduced impact and increased energy return. That's exactly what my joints and body needed, after being ravaged by multiple autoimmune diseases.
When I ran my first half in Newtons in January 2011, I discovered how they worked and found I not only enjoyed running but looking forward to it. I ran the next few halfs in Newtons and knew that these were my shoes.
"It's just a pair of shoes" people said. Much more than that. I could now run and train and recover like I hadn't been able to before. It accelerated my ability to push my autoimmune-challenged body in a healthy way I could only previously dream about. Those lugs at the forefront, the drop, the cushion – but not too much – it worked to put the flow of energy back where my body needed it.
Flash forward to now about to run 100-halfs-in-a-row in Newton running shoes. There's been so much evolution in my running and health over the last 10 years of my running. After every AI flare up, I turn back to my Newtons. Everything has changed – my nutrition, my mechanics, health, training, gear, all of it – except one thing. My Newton shoes. The shoes that allowed me to get to this finish line.
I'm nothing if not loyal – but I couldn't be this loyal if I hadn't seen and felt, year after year, a return on my health. I know without a doubt I wouldn't have been able to run this many and this consistently without Newton running shoes. We also share the same values – Newton is  committed to environmental sustainability in how their shoes are made (including awareness around biodegradability) and community give-back in a way you don't normally see like donating 2,000 shoes to victims of a hurricane.
What other brand can say they have a customer that's run 100 races *in a row* in their shoes? Thank you, Newton, for being an inspiration and beacon in the early days and a consistent partner by my side, er, on my feet, along the way. Celebrating 100 halfs-in-a-row in Newtons together!