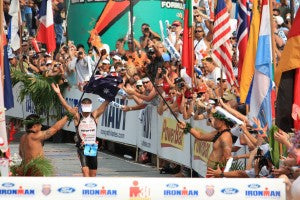 Crowie Conquers Kona
newton running athletes
13 October 2008
Anyone who follows the sport of triathlon knows that our boy Craig Alexander won the grand daddy of all races, the Ironman World Championships on Saturday, just as we predicted.
You can read the press release here, but all you really need to know is that Crowie laced up his Newton Distance S shoes at T2, 8:30 behind the leader. Crowie then hit the afterburner, averaging a 6:15 mile and by the halfway turnaround point he was in the lead. He finished 3 minutes ahead of Spaniard Enneko Llanos crossing the finish line in 8:17:45 after running an amazing 2:45:00 marathon (the fastest run split of the day).
Congrats Crowie! We're proud of you!