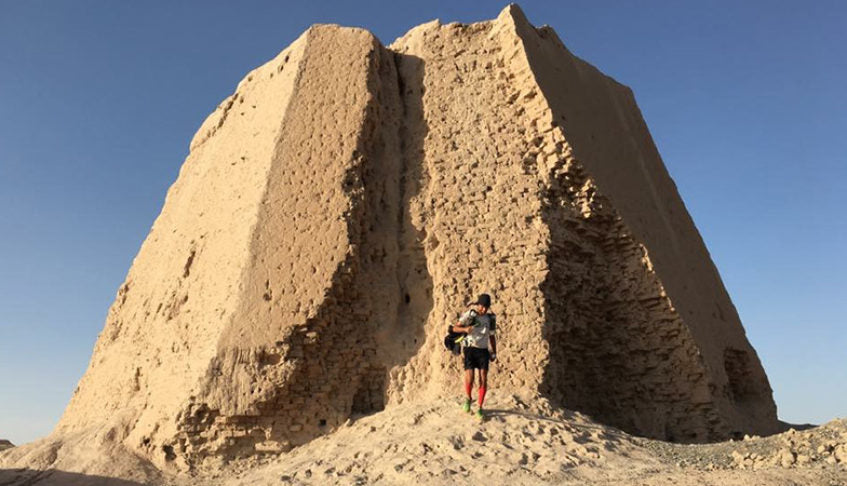 #Extraordinary – Harvey Lewis
behind the scenes
newton running athletes
race reports
30 November 2016
This #Extraordinary blog features a race recap written by Newton Running Athlete Harvey Lewis, followed by an overview of his busy, busy life.
"Run further than you ever imagined." This is the call of the Gobi Trail Ultra, a 248-mile (400 km) race across the remote Gobi Desert of China. Athletes must carry all of their own articles and cover the distance with no course markings. The description both fascinated me and made me nervous. My friend Carlos Sa of Portugal who skied across Greenland this past spring said good luck with a look of concern when I told him this past summer.
I ran my first ultra 20 years ago and while I have credits to my record such as winning the Badwater 135, qualifying and running in more 24 Hour World Championships with Team USA more than any other American male, and experiences in extreme environments including heat and cold this was still going to be tough. The sheer distance, near total self-reliance, and navigation would pose significant new challenges.
The race started before sunrise on a Wednesday morning this fall at the Ashoka Buddhist Temple with a field of 30; nearly half Chinese, the rest from various countries around the planet. Running has become quite popular in China with rising income levels and the race was a reflection of the growing Chinese affluence. Everything was prepared to perfection and my concerns about a disorganized race evaporated. The race followed the pilgrimage route of Xuanzang, a famous Buddhist who became a focal point of Chinese lore due to his journey more than 15 centuries earlier, where he disappeared for years on a mission to discover ancient Buddhist manuscripts. Fireworks started the race and the runners were quickly spread out across miles, that would grow to be scores of miles. Navigating was dependent on a mandatory GPS unit runners carry to follow a digital track to the 36 check points across the race. Marshall Ulrich, the only other American runner is in his 60's known from extreme challenges – he's finished more Badwater 135 races than anyone and climbed all the highest summits on the seven continents among a long list of other endurance achievements. Getting lost in the Gobi is a real possibility so runners are required to have a satellite phone and an additional GPS tracker that mounts to your pack. The Gobi Desert is particularly tough because of the temperature extremes, ranging from over 100 to below freezing. Making good decisions and taking care of your personal health is far more important that the typical marathon or ultra in American because help could be many hours away. We were told that they did have a drone that could deliver something to us if we had an emergency but I'm not sure on its range and didn't want to test it out.
The terrain was insane, a never-ending obstacle course. The first day included sand, rocks, climbing, hopping fences, and uneven ground at every turn. Teaming up with another runner was always a plus. The first day I teamed up with Alfie, a Brit who was holding a strong pace with me in the top three leaders. I made some mistakes. First, I started too quickly. Not that an eight or nine-minute mile should seem too quick but you need to imagine 250 miles is a long way. It's critical to get some rest, ample time to fill up with nutrition, and keep a calm enough pace that your muscles don't seize up in the later half. When you are in the lead in this type of race early on it also takes more energy. The other runners are able to use the runners in front to get a better tangent with navigating.
The second day turned out to be the hottest of the trip and I got extremely ill in the middle of the hottest part of the day. It was a combination of pushing too hard to take the lead early, eating too large of a meal and choosing some poor combinations of drinks for my electrolytes. I was nearly knocked out of the race altogether. I crashed and burned. It took about all of my energy to reach a check point where there was a lone tent in the desert with a couple friendly Chinese. I felt so sick that I threw up repeatedly! I took refuge in the tent and waited for my body to rehydrate, gradually drinking a little each 10-15 minutes while attempting to nap. If I was in a typical city marathon in America I would have likely been prescribed an IV. I stayed the whole night at the check point and incurred a time penalty for stopping for longer than an hour at one of the check points. There were ten resting camps among the 36 check points where runners could stay longer if they wished. My goal of winning or finishing on the podium was out but I didn't want to give up. I wasn't sure if I could finish the race but I was going to give it everything I had. It would have been easy to quit given I didn't feel half of my normal energy level and the challenge of being alone in a remote foreign land, but I edged onward.
The adventure was made greater by the friendly comradery of the local Chinese hired to support the race as well as my fellow competitors who came from such a varied background. The gauntlet of challenges never relented. I really enjoyed the areas where I would end up being able to take a 360-degree view and not see a soul or even the smallest remnant of civilization. Nature ruled and was omnipotent. There was an icy cold river crossing, temperatures over 100 and near freezing temperatures as we crossed the higher ranges in the night. Wind was so strong that if your hat blew off, it was lost. There was no way to chase it down with its speed. We climbed over a giant mountain that was over 10,000 feet and navigated through sand dunes. The backdrop was magical. Remote vistas few ever witness and we were covering the full terrain on foot. I would run into a panoramic view where as far as you could see was just flat desert. Occasionally, I would check my bearings with the GPS unit with a glance down, and just continue, alone with my thoughts. Finally, after an arduous journey I arrived to the blasting of fireworks at the Bridge of Champions in Guazhou City. A crowd of Chinese and media were there to welcome us. Finishers receive the second half of a Yangling Tiger Talley to the one they received before the start. It was used by Ancient Chinese Generals as a key and symbolically represents the honor of finishing. Just over half of the field finished including one female Veronique Messina, from France, who I enjoyed sharing some miles in the final stages of the race.
The Chinese were incredibly hospitable! I was hungry and exhausted! I was so thankful to go directly to a Chinese buffet after finishing. Following the experience everything was appreciated; especially communicated with my family, clean clothes, a bed, unlimited toilet paper, and more and more food. This is an advanced difficulty ultra. While one would want to run a number of prerequisites, I would highly recommend it. The Gobi Trail Ultra just happened to be exactly my 50th official ultra and the adventure of a lifetime."
Harvey Lewis finished 11th overall in 120 hours, 43 minutes, and 34 seconds, wearing the same pair of Newton Boco II's for the entire race!
It is simply #Extraordinary what Harvey Lewis is able to fit into a weeks' time. On top of his weekly training miles, ranging from 50 to 120 miles a week, Harvey teaches high school social studies and also finds time to take people on running holidays with RunQuestTravel, the company he founded 4 years ago. He has been running marathons for 25 years and ultrarunning for over 20 years. Currently he is preparing for the 24 World Championships in Belfast, Ireland July, 2017 where he will run around the same loop for 24 hours!
Harvey has been teaching high school for 16 years and has been commuting (by running of course) to and from school for the last four of them. "I throw on my Newton's and all my teacher supplies into a backpack and go! I strive to be an example to my students of how they can influence their own health and do their role to lesson our impact on the environment."
Running has fueled Harvey's desire to travel and "run the world." His dream is to run in all 196 countries and experience the different terrain, environments and culture the world has to offer. He has crossed 83 countries off the list so far and plans to continue this #Extraordinary journey until he has visited all 196 of them.
When not travelling the world or teaching his high school students, Harvey picks up runs wherever he can. Whether it's racing the Badwater 135 in Death Valley National Park, California with multiple nationalities, or jumping into a running group in Porto, Portugal or spontaneously joining a group of teenagers he bumps into running on the street in Ouarzazate, Moroco, he is always running. Running is a way of life for Harvey; and he has no plans of slowing down.
Want to see more of what Harvey has been up to in the past year? Check out "Desert Around Me" – a documentary that follows Harvey and four other international runners across the Marathon Des Sables in Morocco. https://vimeo.com/ondemand/desertaroundmefilm/183059301
Facebook: Harvey Lewis – Ultra Runner 

"RunQuest Travel is where the paths of adventure, travel and running intersect."