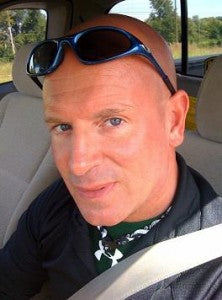 From Iraq and Afghanistan to Kona 2011
testimonials
30 November 2010
At Newton, one of the most rewarding parts about our work is when we receive emails such as the following, from retired US Army Special Forces soldier Stefan Ray. It takes discipline and unwavering self-confidence to come back from getting your knee blasted with an AK-47. If we can help more people recover from injury and get back out on the road running again in order to make positive changes in their lives we are doing our job right.

I just wanted to thank you for your contribution to the running world. I received a few injuries while serving on several overseas tours in Iraq, Afghanistan, and Kosovo/Bosnia, but the worst injury I sustained was being shot through my left knee with an AK-47. I have always been a strong runner, but this injury put me out for a long time. I was never able to run pain free due to the acl/mcl damage the round caused. I came across Newton Running at my 1st triathlon event this year after 1.5 years off due to the injury and rehab. I bought a pair of the Sir Isaacs and then the Distance racers. I am now running pain-free and believe these are the best engineered running shoes that exist. I have turned about 10 people on to Newton shoes now and they are as happy as I am. I am training my rear off with hopes of becoming a pro triathlete. Had I not found your shoes, I never would have even considered it. I am planning a big race season in 2011 starting with Rohto IM 70.3 Florida, IM 70.3 Muncie, and IM Louisville in hopes of qualifying for Kona. No one or anything stops me when I am determined and I want to thank you for turning my life around. Whether it be racing, training, coaching, or just knocking around, I am in Newton shoes about 98% of the time. (I wear dress shoes to church, sorry!) My injuries have been an emotional journey and I am finally back to normal and now in the best shape of my life.
entrance wound
exit wound
Thanks for sharing Stefan!