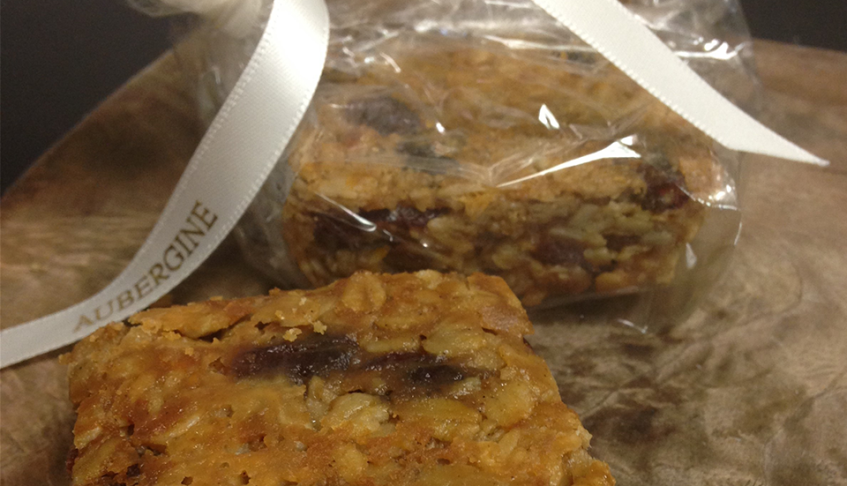 Fuel For The Run!
nutrition
4 May 2015
Let's face it eating healthy while on the go can be a feat in itself! Check out this portable, healthy snack from Chef Justin Cogley that will keep you operating at your best even when time is not on your side!
Ingredients:
Makes about 20 Bars
4 Cups Oats
1/2 Cup Sliced almonds (no skin)
1/4 Cup Sunflower seeds
1/4 Cup Flax Seed
1 Cup Diced Dried apricot
1/2 Cup Dried Cherry or Cranberry
1/2 Cup grape seed oil or coconut oil
1/2 Cup Peanut Butter
1/2 Cup Brown sugar
1/2 Cup Maple syrup
1 tsp. vanilla
pinch of salt
Method:
Pre heat oven to 350. degrees. Bake in a 9 1/2 by 12 by 1 inch pan. ( or something similar) The bars should be about 1 inch thick. (the 1 inch is my preference for a thicker chewy bar)
Mix the dry ingredients together. Heat all the wet ingredients over medium low heat until the sugar is combined. Next, pour the wet ingredients over the dry and mix until combined.
Once the mixture is all combined put into the baking pan. Put the pan into the oven for 7 minutes at 350 degrees. At 7 minutes pull out the pan from the oven and press the bar down all around with a spatula. This will help it stay together later. Then return to the oven for 8 more minutes. After a total baking time of 15 minutes pull out and let cool for 20 minutes. Finally cut into bars. They will last for around 5 days at room temperature. Take on your next running adventure