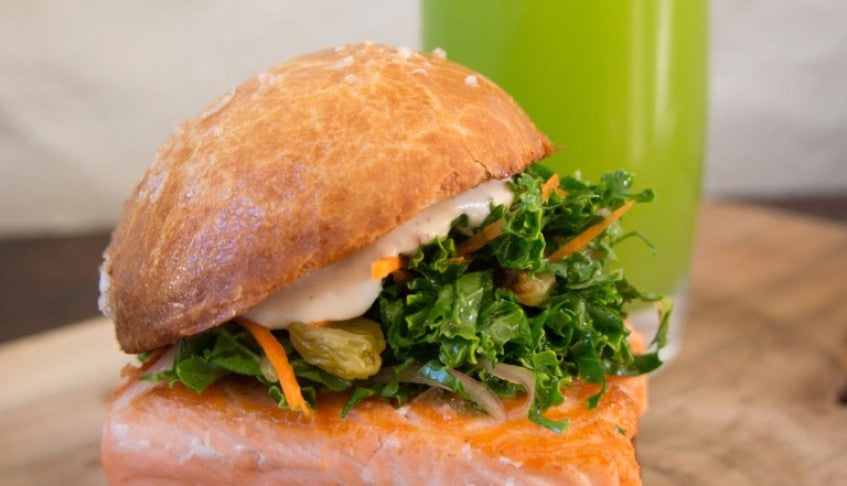 Food on the Run with "The Newton Chef" Justin Cogley
education
just for fun
nutrition
30 June 2015
Salmon Kale Sandwich & Green Juice
Delicious After Run Meal or Snack
Our Newton Chef, Justin Cogley (Food & Wine's Best New Chef 2013).  Has developed a great recipe to help you recover this summer with a high protein and tasty snack which will taste great after any run.
Here's the recipe.
Chef tip.
With a few of these easy recipes you can make a simple sandwich into something refreshing and tasty. I used Salmon since it is going strong right now, but you could sub. Halibut, Chicken, or even Avocado.
 Pine nut mayonnaise–
1/2 cup raw pine nuts, soaked in hot water for 2 hours
1/2 cup of the soaking liquid
2 tablespoons of extra virgin olive oil
1 1/2 tablespoon fresh lemon juice
In a blender, combine the pine nuts, water, olive oil, and lemon juice and blend until smooth. around 3 min. The mixture will thicken as it sits. Use or store in refrigerator for up to 5 days.
Raw kale, carrot, golden raisin slaw
3 bunches of kale, stem off, washed, dried and sliced
1 carrot peeled and sliced thin
Sesame dressing
3 TBSP rice vinegar
2 TBSP dark sesame oil
1 TBSP canola or light olive oil
splash of soy sauce
2 TBSP sesame seeds
1/4 cup golden raisins
Mix all together to form a broken vinaigrette. Check seasoning. Next fold in the Golden Raisins ( adding the golden raisins adds some nice sweetness)
Since melons are just coming into season. This quick drink is very refreshing.
Melon, Celery, Ginger, Apple
2 Cups chopped french melon (or your favorite)
1 Granny smith apple, peeled and chopped
2 celery stalk
small knob of ginger ( peeled and chopped)
Chef tip. Peeling ginger with a spoon works so well!
1/2 cup fresh OJ
juice of one lime
12 mint leaves
1 cup crushed ice
Put the first four ingredients through a juicer. (alternately blend in a high speed blender and strain) Next, add the juice into a small pitcher and pour in fresh OJ and the lime juice.
Crush the mint leaves with the ice and add to the pitcher. Stir and enjoy.
Find out more about Justin here: https://chefsroll.com/justincogley or follow him on instagram to see where he's running today: https://instagram.com/justincogley/