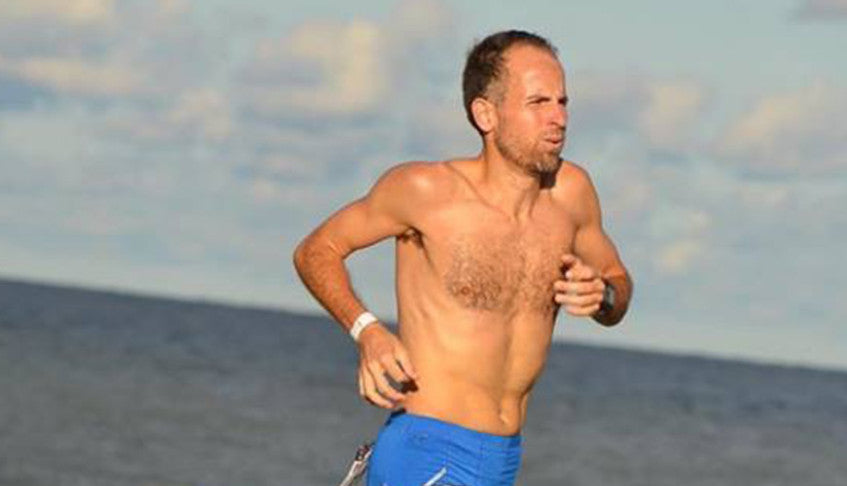 Going Long: Harvey Lewis Talks Ultra Distance Running & Training
at the races
fitness
uncategorized
8 April 2016
Continuing our series spotlighting Newton runners who go the distance, today we feature Newton Ultra Runner Harvey Lewis and the Des Sables Marathon. The Des Sables Marathon, or MdS, is actually the equivalent of roughly five and a half marathons over five days in the Sahara Desert in Morocco. MdS has been ranked by the Discovery Channel as the toughest footrace on earth! Harvey will toe the starting line there this weekend. Per iRunFar, Lewis is one of Top-10 Challengers to the podium to watch!
We recently caught up with Harvey to learn about his training and racing habits. We wish him luck and we'll be watching him over the 7-day stage race!
Harvey Lewis
Harvey Lewis is a great example of how hard work enables you to follow and achieve your dreams. Growing up, Harvey struggled with childhood obesity. He stumbled upon track in eighth grade and he loved the way he felt when he was running. The next year he signed up for the Cleveland Marathon, despite the strong doubts of his teammates. He finished but it wasn't pretty and Harvey will tell you it was tougher than he had ever dreamed. His passion for running continued but Harvey never won a race until June 2004. That same year, he broke his neck in a car accident. After the near death experience, neurosurgeons rebuilt his 4th and 5th vertebra, with added titanium implants. It took a year and a half to get to the speed he once was, yet Harvey's running took on a new force. Harvey qualified for the Boston marathon after seventeen years of running the distance. He earned a spot on Team USA for the World Championship. And, he went on to win the Badwater 135. Here's more about from Harvey about how his training and racing habits drive him to accomplish his dreams.
What does your training look like?
When I first began competitive ultrarunning, I ran roughly fifty miles per week but that number has increased over time. Last year I averaged eighty eight miles per week and this year I'm over hundred for the first three months of the year!
In order to incorporate my training into a busy lifestyle of being a full time teacher I run 10k each day to work. I usually get my best speed work in when I'm running late- I fly! Typically my training varies on the next big race, for example the Badwater 135, a 135 mile race across a desert, entails training in heat and running hill repeats. Regardless of what is coming I aim to include speed work at least once per week.
I absolutely see the value of tracking your data. I coach a select number of ultrarunners and always emphasize that tracking their progress is important. Personally, I'm old school and use a pocket calendar; I calculate my weekly and monthly mileage as well as the distance of each run. I also record if there was something significant about a run- whether it was hilly, hot, or a speed session. Recording data helps me compare my training over the years and keeps me motivated to improve my personal bests.
What about nutrition?
I credit much of my success in ultrarunning to a stomach that enables me to devour tons of food and start running instantly. I have been a vegetarian for twenty years and it has made a significant impact on my overall health.
Prior to a race, I like to eat oatmeal and fruit or cereal with almond milk. During a race I like to eat Clifbar gels, shotblocks and electrolyte drinks. I will also eat salty chips or crackers, and enjoy cookies or cheese pizza. Post-race I like to go a buffet as an incentive for giving my full effort. After the Badwater 135, I crave a giant all you can eat salad bar, largely because I've been consuming unprecedented amounts of sugars and my body craves something healthy.
What are your upcoming races?
Marathon Des Sables (Morocco) April, 2016
Pacing Whistler Half Marathon (Canada) June, 2016
Mohican 100 miler (Ohio, USA) June, 2016
RunQuest Travel Tour (Portugal/Spain/Estonia/Finland) July, 2016
Badwater 135 (California, USA) July, 2016
24 Hour National Championship (Ohio, USA) September, 2016