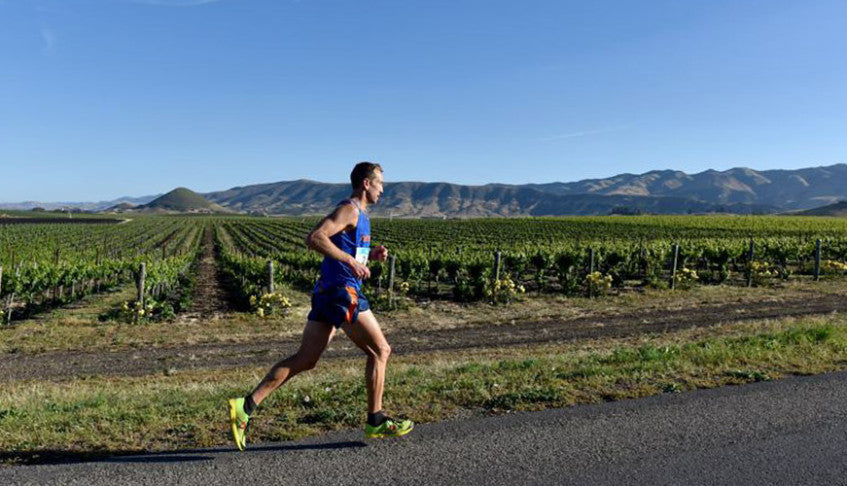 Going Long: Newton Athletes Talk Ultra Distance Running & Training
fitness
newton running athletes
31 March 2016
An ultramarathon is any footrace longer than the traditional marathon length of 26.2 miles. We asked our Newton athletes what it takes for them to conquer the distance.
PAM REED
Pam is one of the top athletes (male or female) in the history of American ultra-distance running. She is also an accomplished triathlete, regularly competing in Ironman races. Pam ran marathons and 10Ks exclusively until 1991, when she moved up to the ultramarathon distance. Since then, she has completed more than 90 ultramarathon events winning multiple titles in trail, road and track ultras, including two overall victories at the Badwater Ultramarathon, a 135-mile endurance run in Death Valley, CA.
What does your training look like?
My weekly mileage is between 70 to 90 miles of running per week. I run Monday- Friday with friends at 5:30AM and add on a second run each week day, totaling a minimum of ten miles per day. On the weekends, I head out for nine mile runs Saturday and Sunday morning.  In place of traditional speed work I run a variety of distances including marathons one to two times per month. I swim about five miles per week and bike 70 to 100 miles per week, weather permitting.  I also add in hot yoga seven hours per week.
I have been running long distance and doing Ironman Triathlons since 1991 and in that time I have never had a coach or used a heart rate monitor.  I just now started using a watch to see how far I have gone. I plan to try my watch at Zion 100 in a couple of weeks so we will see if it lasts the whole time.  Hopefully I can run fast enough so it lasts.
For the most part I listen to my body.  If I am breathing hard I slow down.  When I am thirsty I drink and when I am hungry I eat.
What about nutrition?
I am not the best at nutrition. I eat steak the night before a race and use Carbo Pro with GU Roctane pills during a race. My go-to weekly fuel comes down to oatmeal, soup, potatoes, peanut butter and a Starbucks shot of espresso. In an Ironman, I'll eat a sandwich on the bike and GUs on the run. In 50k's and 50 milers I eat some regular food and do some GUs.  In 100's I almost always do real food: Peanut Butter Sandwiches, potatoes, oatmeal, tomato soup, ginger beer, club soda, Starbucks double shot of espresso, hot tea, coffee, coke, mountain dew and pancakes.
What are your upcoming races?
March 19 Monument Valley 50 miler
March 26 Pole Peddle Paddle
April 8 Zion 100 mile run
May 14 Ironman Texas
May 21 Keys 100 mile run
VAN MCCARTY
Van took up endurance sports in college (1990's) racing bicycles. He then transitioned to triathlons in 2001 (31 years of age) and he quickly found running to be his strength…and the most fun to boot! He did his first Ironman in 2005 (Coeur d'Alene). Van competes in road marathons, trail ultras, and triathlons. Van is typically able to compete with the top of the field,, but has come to terms that besting the Masters is more a reality than hanging with the fast 20 and 30 year olds!
What does your training look like?
My typical running week ranges between 50-75 miles unless I am tapering pre or post-race, then I drop down to 50-60 miles. A standard week for me consists of 7-8 hours running, 12-14 hours cycling, and <2 hours in the pool. Keep in mind that I am a triathlete, so my run volume is a little low compared to "runners only."
I always run with a Garmin, but only analyze it when I have a structured workout. I tend to run by feel and effort.  What I find valuable is the Milestone POD.  I like seeing the foot strike, cadence, and stance time the device records.  This helps to improve running for and injury prevention.
What about nutrition?
My nutrition has evolved over 20 years of trial and error. It may not work for everyone.
Nutrition while Training: I tend to complete my workouts on the bare minimum of nutrition.  I like to use reserves in training to help the body access fat stores for energy.  For morning workouts, I drink coffee, and usually nothing else.  Post workouts  I drink PhysioPhyx recovery drink after hard or long efforts.  For my lunch workouts, do eat a bit in the morning between workouts (fruit, sun butter, bagel, etc).
For long runs over 2 hours, I will take water and gels. That's about it, not a lot.  Again, PhysioPhyx drink after all long runs and rides.
Nutrition while Racing: Here I will address Ultra Distance (50k-50 mile) nutrition.  Fortunately, most races have adequate aid stations to refuel, although there could be an hour between each station.  If I am doing a 50k, I will run with a hand-held water bottle and fill it with an energy drink at each aid station.  I also aim for a gel every hour while racing. If I am doing a 50 mile, I will grab "food" once or twice, typically a PB&J sandwich or a Clif Bar.  I know there will be plenty of post-race recovery so I never overdo it, I want to avoid over loading the stomach and creating difficulty digesting energy.
What are your upcoming races?
April 1 Ironman 70.3 California (Oceanside)
May 1 SLO Marathon (San Luis Obispo, CA)
July 31 Ironman Vineman (Santa Rosa, CA)
August 20 Santa Barbara Triathlon
September 4 Pier to Peak half marathon (Santa Barbara, CA)
October 8 Ironman World Championship in Kona, HI
MEREDITH DOLHARE
Meredith has quite the impressive race resume. She once completed in 3 Ironman events in 3 countries on 3 consecutive weekends (Ironman France, Austria, and Switzerland). Additionally, she has completed 12 full Ironman and 12 half Ironman events before switching to ultra-running and ultra-cycling following spinal fusion and reconstruction in 2012. Meredith is also a two-time Furnace Creek 508-mile Bicycle Race finisher.
What does your training look like?
Considering my penchant for undertaking a lot of races in a brief amount of time, I receive a lot of training questions. Personally, I do subscribe to the "race to fitness" theory because I really love testing my nutrition and there is nothing like taking advantage of a supported training day where all of the aid stations will be provided for you. That is a great time to train the same crew you will be using for your "A" race if you are bringing one. They will get to know you and how you like to be crewed, and you will be able to communicate your needs without the stress of the race. As far as day-to-day training, I really enjoy doing three-day blocks not only because my life is extremely busy with my family, coaching and nonprofit responsibilities, but also because when you are training for a very long race, let's face it, you are going to get tired. Beginning day three of a block consisting of 22 miles on day one, 25 miles on day two and 50k on day three prepares not only your body, but also your brain. Ultra-running is extremely mental, so anything you can do to prepare your mind and trick yourself into believing what you are undertaking is a piece of cake is key!
After these three-day blocks, I take a day off before executing an easy four-mile recovery run followed by a tempo day with some pickups. I'm not an uber high-mileage person to be honest, and rarely hit more than 90 miles a week no matter how long the race I am planning for is. I subscribe to quality, not quantity and try to stay healthy by listening to my body instead.
What about nutrition?
I've been extremely lucky to have found a nutrition that really works for me after having a very dicey start to ultra-running. Let's start with the day before a big race—especially one in extreme heat or stress. During the day, I sip on a very high electrolyte concentrate called The Right Stuff, which was formulated originally for NASA astronauts to combat dehydration in space. For dinner, I do not carb load—quite the opposite. I've found that the lower my carb intake as I train and race, the fewer stomach issues I have. Basically, I subscribe to the concept of metabolic efficiency; therefore, I eat a piece of salmon, jasmine rice and asparagus the night before while only having two protein-enriched UCAN drinks and a banana for breakfast—even if I might be running for the next 30 hours. The existence of the protein helps curb my appetite and hunger over the long hours ahead since I am not capable of taking in solids while racing.
GARETH EVANS
Gareth is a passionate runner and philanthropist. Most recently Gareth completed the Antarctica Marathon as part of his adventure to complete a marathon on every continent. Support his charity of choice at www.bcured.org to help end brain cancer by funding research.
What inspired you to tackle the Antarctica Marathon?
I have been running the New York City marathon every year for charity since 1996, ranging from breast cancer to brain cancer and the challenged athletes foundation. I found that donors got a little tired of the same old race, so last year I set 3 races as my goal. I had heard of the ice marathon from a close friend in Switzerland who had done it, so I signed up for it!!
How did you train for the extremely cold conditions?
I love the cold. I grew up in the mountains in Switzerland and lived in Aspen for three years in the early 90s. Luckily, in January 2014, New York City had a deep cold spell, so I ran a lot outside. I acclimatized well. It is just a matter of layering and keeping moving when outside!
What was the most memorable part of the challenge?
From flying from NYC to Santiago to Punta Arenas, meeting the 53 runners from 21 countries (or so) and waiting to fly out to Antarctica, the whole experience was so rich. When we finally landed in Antarctica, it was exhilarating. It was like being on another planet without leaving this one. The race itself went by in a flash even though it was a slow trek (two 13.1 mile loops, and 6.5 miles or so of each loop was in soft, ankle deep snow on a slight, straight upgrade on the glacier, making it like running in deep sand, with a headwind and white out conditions. The celebration that night was just an awesome experience with everyone feeling accomplished. Then we got stuck there for four days as the plane couldn't land. It was amazing to spend time with people without internet or cell coverage because people actually had to communicate with each other!
What are your upcoming races?
I registered for the world marathon challenge in January 2017, then the North Pole Marathon in April 2017 to complete the 7 continents and grand slam.