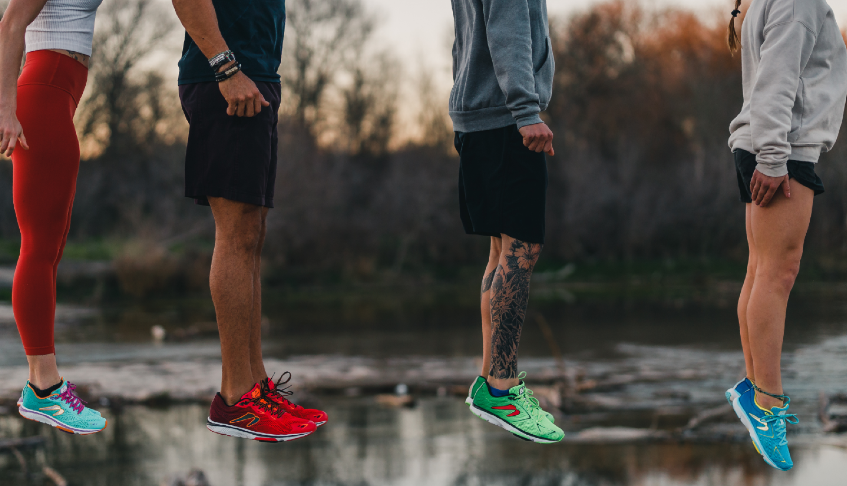 Two Teams. One Mission.
13 January 2021
To inspire movement and create change through sport.
Since inception in 2007, Newton Running has maintained social and community responsibility as part of the company's core values. This decade emphasizes the same mission. Newton Running is fortunate to introduce two Newton sponsored teams featuring standout athletes and more importantly, amazing human beings. The heart and soul of their respective communities.
For the 14th straight year, Newton Running is pleased to introduce the Newton Running Corporate Ambassador team. This team, narrowed from thousands of inspirational people to only 50, represents some of the nation's greatest competitors and community leaders- exceptional runners, people, and social movement influencers from across the country.
"We're excited to have such a worthy group of athletes and philanthropists running toward their goals with Newtons on their feet" said Wendy Lee, Director of Global Sales and Philanthropy for Newton Running.
For the third consecutive year, Newton Running will also serve as the exclusive running shoe partner of USA Triathlon and the USA Triathlon Foundation Ambassador Team. This team will features some of the top age group athletes in the nation, hail from 23 states and bring a diverse set of backgrounds in the sport. 
"For us this partnership is the perfect match, using the sport that connects us to make a difference in our communities," said Wendy Lee.
Ambassadors will encourage positive change, competition, and participation in sport throughout the country. With pride, please meet the 2021 Ambassador Members:
2021 Newton Running Corporate Ambassador Team
Mackenzie Madison

Heather Schulz

Frank Cusimano

Beth Nicely

Brian Llamas

Harvey Lewis

Travis Lavin

Lyndy Davis

Chelsea Hall

Jackie Hering

Tanya Carrier

Michele Weinstein

Daniel Pelham

Casey Snyder

Mika Nakashige

Paula Mrowczynski-Hernandez

Caitlin Alexander

Hannah Hiller

Marianne Knai

Perrin Clore Duncan

Mark Hunkele

Karen Brady

Jane Ulitskaya

Rachel Frutkin

Donna Marcil

Victoria Sekely

Ginny

Cataldi

Amber McIntyre Aguirre

Becca Pizzi

Brendan Aylward

Chris Overton

Christiann Arbini

Conrad Rodas

Doc Golden

Ellen Artz

Garrett Mayeaux

Jason Brosseau

Jorge Garcia

Josh Lacan

JT Peebles

Justin Daniels

Mark Negele

Meghan Duffy

Mindy Przeor

Nate Fowler

Nate Gomez

Kyle Pease

Brent Pease

Taylor Hannegan

Vincent Coons

Whitney Dancaster

Shay Eskew

Andy Nye

Nathan Barkin

Carter Krueger

Nicole Gartside

Tennille Taylor 

Gretchen Schoenstein

Bobby Howland

John Gleason

Christine Cohen

Triny Willerton

Brad Lord

Bill Nolan

Khem Suthiwan

Brian Hackenburg

Bryan Cox
2021 USA Triathlon Foundation Ambassador Team 
Hailey Danz
Joe Maloy 
Erin Storie 
Renée Tomlin 
Caroline Condon 
Malek Amrani 
Pete Anderson
Kimee Armour 
Corey Bell 
Lyndze Blosser 
Susan Brashear 
Nicole Brown 
Avery Chapman 
Madeline Consuelos
Carol Coram 
Becky DiSorbo 
Scott K. Endsley
Ronnie Fields, Jr. 
Jamila Gale-Agans 
William Gates, Jr. 
Thomas A. Giannettino 
Gail Gottfried 
Susan Haag 
Jill Hamilton-Reeves 
Suzy Heffernan 
Jason Henry 
Wesley Hollero 
Donnelly Howard 
Jillian Jacinth 
Leah Kaplan 
Kenny Knittle 
Caryn Kusleika 
Noah Lam
Dana Locken 
Magui Martinez-Pena 
Cristin McDermott 
Emily Morrison 
Jen Myers 
Cheryl Perry 
Steph Popelar
Sue Reynolds 
Sybille Rex 
Michael Salsgiver 
Rosalind Jarrett Sepulveda 
Jerry Shere 
Tove Shere 
Janessa Schulte 
Kearci Smith 
Khem Suthiwan 
Kim Townsend. 
Ross Young 
Nicole Wan 
Christine Wodke 
Joshua Woods