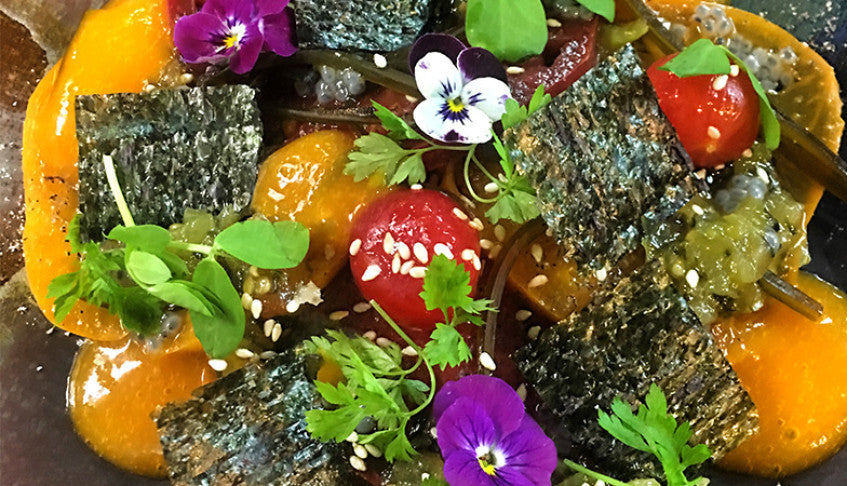 Tomato season is winding down
uncategorized
31 August 2016
Put your cooking skills to the test with Newton Ambassador and Chef, Justin Cogley's recipe, Heirloom Tomatoes, Braised Seaweed and Sesame.
"Since the local tomato season is starting to wind down, here is a great way to enjoy them.  You can make the sauce, braised seaweed and vinaigrette the day before and use them for a number of different applications."
Serves 4.
4 large Heirloom tomatoes for serving
Heirloom Tomato Sauce
1/4 cup red onion, sliced
1 garlic glove, chopped
2 tbsp olive oil
2 large heirloom tomatoes chopped (I used a yellow variety)
1/4 cup water
2 tbsp vinegar, balsamic, quince, raspberry or red wine vinegar.
salt and pepper
Sweat the onions and garlic in the olive oil for about 5 min over low heat until they soften. Next add the tomatoes, water and vinegar. Cook for about 30 minutes, until the liquid is slightly reduced.  Transfer to a blender and blend to combine. Strain through a strainer into a container, and season with salt and pepper to taste.
For The Braised Seaweed
1 cup dried hijiki or wakame seaweed
1 teaspoon vegetable oil
1 tablespoon sake
1 tablespoon sugar
2 to 3 tablespoons soy sauce
Soak the hijiki in warm water to cover for 15 to 20 minutes, or until soft. It will expand to many times its original volume, so choose a 2-quart bowl. Reserve 1 cup of the liquid and drain off the rest. Pat away the excess moisture with paper towels.
Heat the oil in a skillet, preferably nonstick, over high heat. Add the hijiki and quickly saute, stirring constantly, for 1 to 2 minutes. When it becomes aromatic, add the sake and toss the contents of the skillet until the sake evaporates. Add 1/2 cup of the stock and lower the heat to maintain a steady, gentle simmer. Partially cover the pan, swirling the pan occasionally in circular motions to ensure even cooking. Check the level of liquid, adding stock or water to keep the food from scorching. Cook 5 to 6 minutes, or until nearly all the liquid is gone. Add the sugar and the remaining 1/2 cup stock and continue to cook uncovered for 6 to 7 minutes, or until nearly all the liquid is gone. Test a piece of hijiki. It should give easily when pinched. If it does not, add a few spoonfuls of water and continue to simmer until tender. Do not add any soy sauce until the hijiki is tender.
Add 2 tablespoons soy sauce and cook uncovered 1 to 2 minutes, or until the liquid is nearly gone. Taste and balance any unwanted sweetness by adding a few drops more soy sauce.
Remove the pan from the heat and let the hijiki mixture cool. This is best served at room temperature.
For the Sesame dressing 
3 Tbsp rice vinegar
2 Tbsp dark sesame oil
1 Tbsp canola or light olive oil
splash of soy sauce
2 Tbsp sesame seeds
Mix all together to form a broken vinaigrette. Taste seasoning.
For Serving
Take the ripe Heirloom Tomatoes, slice them each into 4 slices. Next, season with sea salt and pepper and place 4 slices to a plate. Spoon some of the tomato sauce around the plate and then top the tomatoes with the seaweed, herbs, and flowers. Finally spoon some of the dressing around the plate.
Optional:  Add to this salad some nori sheets cut up into squares, some cherry tomatoes, pea shoots, chervil, and a few edible flowers. You could also serve with sliced avocado!