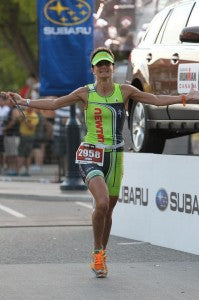 I Am Newton Running: Juda McGannon
behind the scenes
2 March 2012
I grew up playing every sport and game imaginable; Skateboarding, boxing, kick ball, kill ball, running bases, soccer, softball, basketball and rugby.  I wore Converse, Adidas, Puma, Etonic, and Nike.  My feet were a topic of conversation often because they are so wide, and I had tremendous pain in my teenage years due to a bunion on my right foot.  It was surgically "repaired" when I was 21 years old, which left me with limited range of motion in my toe, but gratefully no pain.  I packed on some weight after college, and managed to max out at 155 lbs.  Just after I got married in 1989, I set out to change my lifestyle and regain the level of activity I had in my younger years by joining Weight Watchers, lifting weights and running.
I worked the 3-11 shift as a reservation sales agent for Northwest Airlines, so every day before work I ran a 1.1 mile loop by my house.  It took me 11-12 minutes.  I ran my first 5K in 36:00.  My first triathlon was in the summer of 1990, a Danskin sponsored sprint.  I loved it.  I was miserable at my job and wanted to do something involving fitness and my new healthy lifestyle.  I went back to school for three years and received my M.A. in exercise physiology from Adelphi University in New York.  That 1.1 mile run became 2, and then 4, 6, 13, and finally my first marathon, New York City 1996.  I continued in triathlon as well, competing in St.Croix in 1995 and Ironman Canada in 1998.  I had the best jobs in corporate fitness, running wellness centers for JP Morgan Chase and Philip Morris (yes, the cigarette company).  I grew tired of the toxic lifestyle in New York City and made a move to Scottsdale Arizona, just 12 days prior to 9/11.
We left Arizona almost 4 years to the day that we arrived, moving back East in order for my husband John to take a sales position with his company, PING Golf.  Determined to do something different, I took a part-time position at a local running store.  It kept me busy, but more importantly gave me an opportunity to meet people in the running community.  I started getting involved again in coaching individuals and large groups for 5K, as beginning runners were always special to me.  I also attended school again, and earned another degree and a license in massage therapy.  Seven years there… Following a three hour bike ride in June, I gave notice.  I didn't know what I was going to do, but I couldn't stay there anymore.  I had to clear something out of my life, to let something in.
I tried Newton running shoes for the first time in July 2008 at Ironman Lake Placid.  John bought a pair of Motions from Tom Curran!  I put them back on when we started to carry them at Charm City Run, but I was happy enough in whatever I was running in, so I didn't switch.  Finally in the early part of 2011, my training partner wanted out of his Brooks Beasts and was on me constantly about Newton's and Natural Running.  If I was to help him, I needed to know more about them so I started to run in the Gravity.  With a week left at my job at Charm City, another employee advised me of the Mid-Atlantic Tech Rep opening.  My strong exercise physiology background and my retail experience was a perfect combination, and Tom hired me in the parking lot of our Fleet Feet Baltimore store.
I have always been a positive, ebullient, and energetic person by nature, and was often told by my father to "cheer down" as a child.  I love what I do, I believe in what I do, and I give my best every day.  Since running in Newton shoes I have been injury free, able to run more mileage, and I'm running faster.  At 46 years of age I have run a PR at 5K, 10K, 8 Miles, 10 Miles and Half Marathon distances.  This year I plan to PR at DC Rock and Roll Marathon, finish the Northface 50 Miler and add two more Ironman events to my resume with Canada and Arizona.