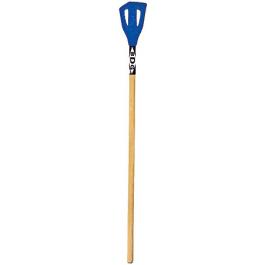 One Boulder Plaza Broomball Tournament with Team Newton
behind the scenes
just for fun
10 February 2012
For the past two years, the Ice Rink at One Boulder Plaza holds a broomball tournament to raise money for Community Food Share and each year Team Newton takes to the ice with high hopes. In case you're not sure what broomball is, it's like hockey but played with shoes instead of skates, a size 1 soccer ball instead of a puck and a "broom" instead of a stick.
A Broomball "Broom"
Team Manager, Rich Miyamoto, watching from the sidelines has written an excellent play-by-play of Team Newton's road to the championship game:
Last night was the broomball extravaganza we have all been anticipating and Team Newton was amazing!!!
In the first game we played Reuben's Burger Bistro, who were huge! Rumors were they were stacked with hockey players and would likely crush us…  Coach Dan "I love Grills" Grundy (dressed in his best Bill Belichick hoodie impersonation) fired the team up with a pre-game perspirational speech that would have definitely made the difference for the Pat's in this years Super Bowl…
The Jerry and Team Newton in Action
The pumped up Newton team lead by The Jerry took the ice and calling The Jerry panther-like would be a complete understatement.  If you can maybe visualize a Crazed CEO with years of pent up energy from working at his desk 100 hours a week with the unthinkable idea of building a company to make running shoes to compete with the big boys (now that would be a crazy man!!) and then releasing it all one night on one poor unsuspecting broomball team…I know that is a picture too frightening to even imagine and makes you want to close your eyes or look away, but that is exactly what would best describe The Jerry last night! The poor Burger giants were faced with their worst nightmare and by half time The Jerry took himself out of the game to spare them total humiliation.  All who were there will forever have the story to tell their children of the night they witnessed the Crazed CEO…Final score: 6-0!!!!
The next game was against Occipital who just destroyed last years runner-up team and you could hear them calling out actual plays during warmups!!!  They were also giants. (Does everyone except Newton eat at Rueben's Burger Bistro everyday?).
The Jerry decided it was unfair to the other teams for him to continue to play so he retired from the tournament, leaving a huge gaping hole in Newtons chances…  How would we compete?  Coach Grills had the solution…he would be a player coach and play goalie!!! Later he would confess that he went into that zen state of mind and imagined the ball was chicken, hamburger, steak…you got it…all things to grill!!! Brilliant!!! He gobbled them up and the frustrated Occipital giants could not score!!….but unfortunately neither could we.  Shootout!
Team MVP, Hawk Wathen
Team Newton finally met its match in the championship game against the host The Rink team.  This is definitely a team that was stacked with actual skilled hockey players, many of whom play on the University of Colorado Hockey Team.  Sort of like if Newton wanted to host a Team Triathlon Relay competition among the One Boulder occupants…  Still, Team Newton fought their hearts out and gave them a much, much tougher game than they obviously expected as they crushed the other competition and you could hear them chirping at the refs to the very end…  SATISFACTION!!!!
It was an exciting, fun night for everyone and we can all certainly be proud of the way Team Newton represented us! Thank you to all who participated making it a most memorable night in Newton lore!
The Jerry and Team Newton in Action






A Broomball "Broom"