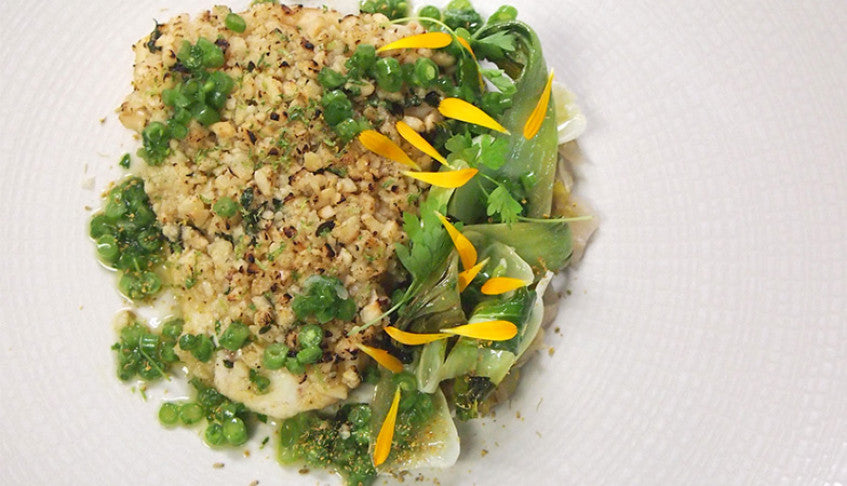 Inspired by Thailand
uncategorized
19 June 2016
Newton Ambassador and Chef, Justin Cogley shares with us a halibut recipe that has a sauce that reminds him of walking around Thailand. He describes this dish as, "super simple, just like some of the street food in Thailand."
Halibut, Roasted with Hazelnuts, Bok Choy, Cilantro and Ginger.
Serves 4
Ingredients
3/4 cup finely chopped toasted hazelnuts
1/2 cup panko (Dried Breadcrumbs)
1/4 cup fresh Italian parsley (sliced)
2 tablespoons finely chopped fresh chives
4 6-ounce halibut fillets (each about 1 inch thick)
6 tablespoons butter, melted
Lemon wedges
Preparation
Preheat oven to 400°F.
Mix hazelnuts, breadcrumbs, and herbs in small bowl; sprinkle with salt and pepper. Brush each fish fillet with 1 tablespoon melted butter; season with salt and pepper.
Place fish on prepared baking sheet. Sprinkle breadcrumb-herb mixture atop fish, dividing equally and pressing to adhere. Roast fish until just opaque in center, about 8 minutes. If crisper topping desired, preheat broiler and broil fish about 1 minute, watching carefully to prevent burning. Season with lemon juice.
Cilantro-ginger sauce
Ingredients
1/2 cup packed fresh cilantro leaves (save the stems, see below*)
1/2 cup packed fresh flat-leafed parsley leaves
2 shallots (diced)
1 large garlic clove
2 teaspoons grated peeled fresh gingerroot
1/2 teaspoon cumin seeds
1 teaspoon vegetable oil
2 tablespoons soy sauce
2 tablespoons fresh lemon juice
Preparation
Have ready a bowl of ice water. In a small saucepan of boiling water blanch cilantro and parsley 10 seconds and drain in a sieve. Refresh herbs in ice water and drain in sieve. Chop shallots and garlic.
In a small nonstick skillet cook shallots, garlic, ginger root, and cumin, in oil over moderately low heat, stirring, until shallots are softened. In a blender purée shallot mixture, herbs, and about a  1/4 cup water, and soy sauce until smooth, about 1 minute, and season with salt and pepper. Sauce may be made 1 day ahead and chilled, covered. Bring sauce to room temperature before serving.
Bok Choy
4 heads of baby bok choy (separated into individual leaves)
Salt
lemon juice
Preparation
Have ready a bowl of ice water. In a small saucepan of boiling salted water blanch the bok choy leaves for 45 seconds. If plating right away season the bok choy with lemon juice and salt.
Plating
Add about 2 tablespoons of sauce to the middle of each of 4 plates. Place the fish onto the sauce and add the leaves of bok choy around the side of the fish.
* The cilantro stems have tons of flavor. I like to slice them up, add a touch of olive oil, salt and some lime or lemon juice and make a simple vinaigrette. You can spoon this around the fish before serving also.
* This recipe is also great with roasted cauliflower, salmon, or pork.