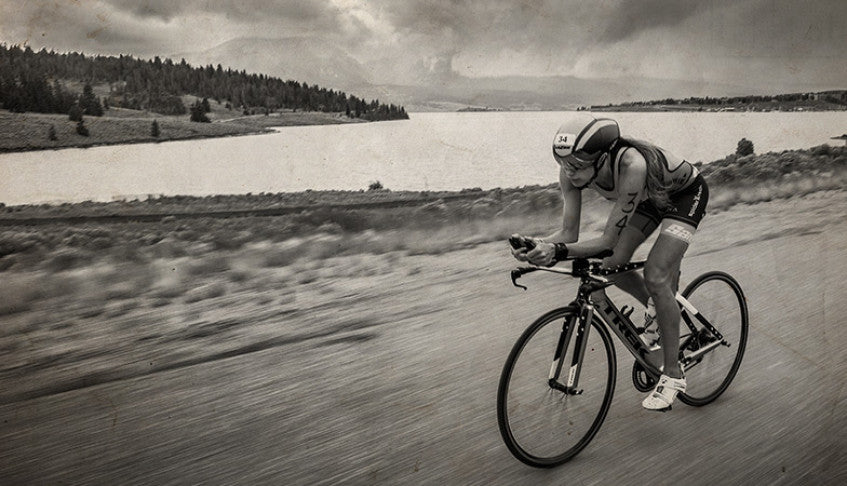 Q&A with 106° West Jeff Suffolk
uncategorized
26 June 2016
Newton Running is proud to be a sponsor of the inaugural 106° West Triathlon, the highest triathlon in the world. 106 West is set for September 10, 2016 in Dillon, CO.
We met up with the founder of Human Movement Management Inc., Jeff Suffolk, to learn about how he came up with the idea of 106°West Triathlon, why Newton Running's presence amplifies the event, and his plans for the highest tri in the world!
Q: Tell us a little bit about Human Movement Inc.
A: We are a 6 year old company that wants to create proprietary, unique events that can't be recreated anywhere else in the world. We are enthusiasts about active entertainment and are constantly trying to find ways to get people up and moving and have fun doing it. We've done everything from PBR Ribbon Pond hockey, Denver's Oktoberfest Stein holding contest, the first Ugly Sweater Run and much, much more. We just bought a 500 acre ranch in Bailey, CO to start hosting additional proprietary events. Stay tuned for a calendar of events.
Q: How did you come up with the idea of 106° West Triathlon?
A: "We wanted to come up with the most proprietary, distinct event and location that no one else would be able to duplicate, and immediately Lake Dillion came to mind. I had first heard about the lake 10 years ago when I was working with the IronKids series in Colorado, and found it puzzling that even though the lake allowed boats, paddle boarders and fisherman, swimming was not allowed.
Once the idea of 106° came to mind, I reached out to some of the local board members in Dillon to see what I needed to do in order to break down the barriers of not being able to swim in the lake… I was told it was going to be a long time until I got an answer. The reason why? Lake Dillon is actually Denver's Water Source. Dillon Dam Road is federally protected because it services 100% of Denver's water.
After staying in contact for about 7 years and reminding the community leaders of my vision to hold a triathlon in Lake Dillon, I was contacted by the board members in Dillon letting me know they were ready to have a meeting to vote on allowing 106°West to happen in the lake…and it was approved!
Q: Why Dillon, CO?
A: "When it comes to these types of experiences, (the highest open water swim, a challenging yet beautiful bike ride, highest tri in the world) I want people to drop the expectations and ENJOY the experience!  The town of Dillon will allow spectators and athletes to do just that. Dillon is truly a magical town surrounded by mountains and in the heart of ski country. The scenery the athletes will take in during the entirety of the race will be something they'll remember."
Q: What do the swim; bike and running course look like?
Swimming: The race will start at the marina and go across Lake Dillon.
Biking: Athletes will head east to the city of Montezuma, a quirky, cool town. From a starting point of 9,071ft elevation, it's a continuous climb to Montezuma. There is no doubt this will be a challenging and memorable bike course.
Running: The run will start at the Dillon Marina and weave its way along the Dillon Reservoir. The total elevation gain will be 706 ft.
Q: Why Newton Running as a sponsor?
A: We are a CO company and this is going to be a true CO native event. We wouldn't want to partner with anyone other than another CO brand. Plus, Newton Running got its start with triathlons and continues to offer triathletes and runners all over the world high-performing running products.
Q: You have a 10 year agreement with the Town of Dillon to utilize the lake. How do you see the race evolving over this timespan?
A: "Like the original mission of Human Movement, we want this event to be unique and legendary. We think this will become a bucket list event in some regards, and people from all over the world will come and try it. You won't set a PR at this race, but now and 10 years from now this event will be unlike any other race an athlete will ever do."
Q: What are you anticipating to be the biggest challenge for participants?
A: "In addition to the elevation, course and stunning scenery, unpredictable weather in September could be a challenge. We've got a first rate operations and logistics team to ensure every aspect of the race runs smoothly and offers athletes the best possible experience."
Q: Why should people sign up?
A: "Why shouldn't they is the question! I think the reason you get into triathlons is to test your physical and mental limits. Seasoned triathletes reach a point where they're just testing themselves against time, and I believe this race will test the athletes against the reason why they got into triathlons in the first place."
Register for the Highest Tri in the World here:
106° West Triathlon and use Code COTRI for 10% off your registration!