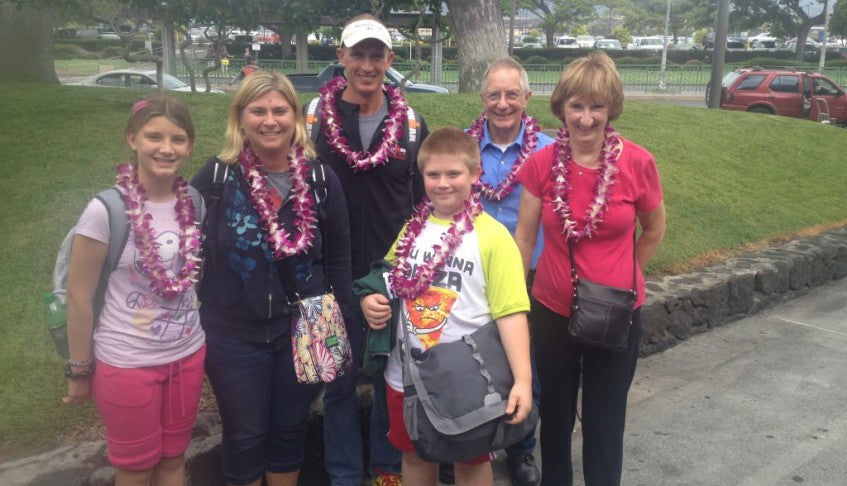 Just Tri It!
at the races
newton running athletes
uncategorized
5 January 2015
As you contemplate your New Year's Resolution, consider taking inspiration from amateur triathlete Dan Stubleski.
While you contemplate your New Year's Resolutions, consider taking inspiration from Dan Stubleski, who didn't run, swim or bike competitively until he took up triathlons four years ago at age 34. Although he now rides with a local team (Fraser Bicycle Team Green), he doesn't have a coach and he works full time. Still, this year, he placed first in his division (35-39) at the Ironman World Championship in Kona, Hawaii and he was the overall top amateur finisher, in a time of 8:50:22. We caught up with him recently at his home in Washington, Michigan, where he lives with his wife (who he describes as "the best Sherpa EVER!!!!") and two kids, ages 12 and 10.
Before you started doing triathlons had you ever raced running? No, no racing before. I just ran for fun. I was competitive in team sports.
Did you bike or race bikes? My first race was the South Maui Triathlon in 2011.
What about swimming?  I knew how to swim, for fun, but did not start really swimming until I signed up for the South Maui Tri. I started swimming at the Romeo High School pool.
So triathlons are quite a bit different than playing basketball. How did you start doing triathlons? Well, I bought my first road bike because I was into watching the Tour De France and thought that riding might be fun. I bought my first road bike and loved it. I discovered Triathlon when looking for a bike race during a trip to Maui with my wife in June of 2011. We were already booked to go and I wanted to bring my bike. I thought it would be cool to do a race while I was there, but could only find triathlon and not just bike racing. I figured why not? I'll try it!
You came 2nd in your first triathlon, the South Maui Tri, which was Olympic Distance,  and then went straight to the IRONMAN Steelhead 70.3 in Michigan…were you hooked after the first one and just decided to go for it? Oh heck yeah, I was hooked! I figured I did well at the Olympic distance, and loved it, and Steelhead was within driving distance, so why not?
When did you set your sites on a full IRONMAN? I did not set my sites on IRONMAN until after I completed the 70.3 (which actually wasn't a true 70.3 because the swim was cancelled).
Looking at your resume, it looks like you performed well from the get go and then just got stronger? Were you surprised at your performance?  I was surprised at my performance in Maui. I really just wanted to finish. I never expected to finish second overall! It wasn't until after like my 3rd or 4th race that I stopped being surprised and knew that triathlon racing must be my thing.
Was IRONMAN Texas your first full? Yes, Texas 2013.
When did you set your sites on Kona? After my 2012 race season—I raced well in 2012 and set my sites on a full IRONMAN and qualifying for Kona 2013.
In 2013, you placed 2nd in your age group and 26th overall at Kona. How did that race rank for you in your list of experiences? I think I have to say my best race experience was Kona 2013, my first time racing there. There is nothing like it! Just the feeling of being in Kona was awesome—the crazy, exciting atmosphere. Just standing on the pier. Crossing the finish line for the first time in Kona, the feeling is indescribable!
What were your goals heading to Kona this year? My goal was to win! Isn't that always the goal? Lol! I also wanted to improve on my marathon time.
What were you worried about going in? If I could improve on my time from last year.
Did you know you were the first amateur? I did know I was in first. It was close for most of the race. Toward the end though I knew I had a little time on the second place guy.
Obviously, you won, so the race went well. What were the highlights? Well, I had a bad swim. I picked a spot that proved to be not good! It was crowded. Everybody wants to be first so everybody wants to start the swim up front. The spot I chose was crowded for most of the swim. My favorite part was the bike. I love to ride. I got a new Specialized Shiv this season and sometimes I just can't get out of the saddle!!! My bike was descent, considering there was a head wind heading to Hawi and pretty much all the way back from Hawi! I had a PR on the run, 2:58:19. I was excited, happy, proud! I couldn't believe I had done it!
Was your family there to watch? This year just my wife, but last year for my first Kona, my wife and kids were all there.
And you raced in Newtons? Yes I did. I raced in the Elites, the green ones. When I first started wearing Newtons I wore Distance S. I sometimes still train in them.
Why Newtons? Honestly, because Crowie [Newton athlete/triathlete Craig Alexander] wears them! That is how I discovered them. I was wearing another brand for my 2011 season and they were too wide, sloppy. I knew that before my 2012 season I needed to find a new brand. I saw Crowie in Newtons and looked them up and thought I'd give them a try. I have been hooked on them ever since. Love them. The guys that work in the Newton tent at the race venues got to know my wife because we were in there shopping so much!
So, why do you do what you do? I do it because I love it. I love to exercise. It makes me feel alive! Lol, most people don't understand that!
What do people think back home? Everyone is excited. Everyone is happy for me and they want to hear my Kona story, which I am happy to tell!
What's next? Well, I had a lot to think about and consider. I kind of wanted to go pro, but with the changes to the pro race that Ironman made, it really doesn't make sense for me. All of the sold out races that I could have entered and close to home races are no longer pro races. So, I am going to stay amateur.
Do you have any advice for newcomers to triathlon? For the newcomers in the sport, start slow and enjoy the journey. It takes a lot of dedication to do this sport. It gets a little easier the fitter you get.
What about any New Year's Resolutions? My goal for the year is to go faster each time I race. To win again in Kona would be awesome!! We will see. I think I can still improve in all areas.