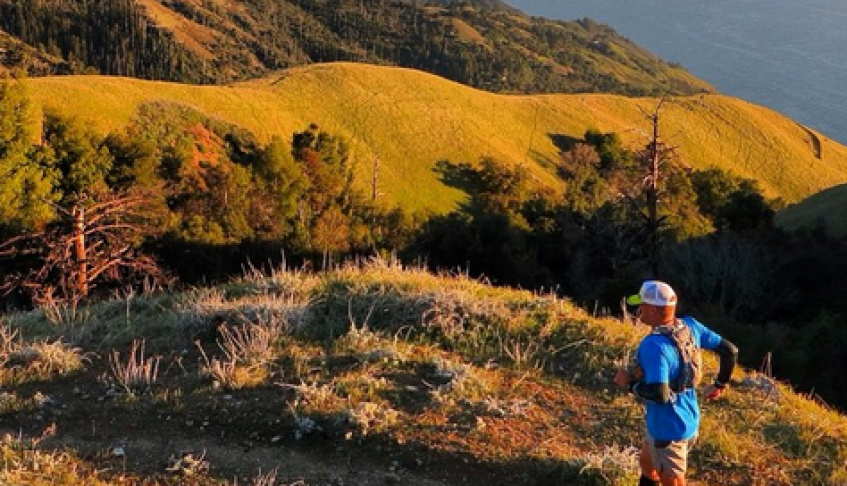 Running Fare
just for fun
29 January 2015
When award-winning Chef, Justin Cogley, won an entry to the Big Sur Marathon, he wasn't a runner. He is now.
Justin Cogley had always been an athlete. But then life as a chef kind of got in the way. Until last year, when the award-winning Cogley, who is Executive Chef at Aubergine Restaurant at L'Auberge Carmel (in Carmel, California), won an entry into the Big Sur marathon. He wasn't a runner. Encouraged (and heckled a bit) by his colleagues, the 36-year-old Cogley decided to do it.
With just a month to train, he bought some Newtons, (the Boco AT's to be exact) did a Newton running clinic at the local running store, and started running. He managed to pull off a 3:50. He's been running and racing (in Newtons) ever since.
Now, Cogley logs 50 miles a week, he started doing triathlons and longer distance running races, he's lost 27 pounds, and he's inspired several servers at the restaurant to take up running, too. He's even started making breakfast (homemade granola, vanilla yogurt, and apricots) for the Treadmill's twice-a-month running group.
Most recently, Cogley placed 39 out of 509 participants in the North Face Endurance Challenge 50K in San Francisco. The former professional figure skater, who spent four years touring the world with Disney On Ice before trading his skates for his chef's hat, says, "It's silly that I didn't fall into another sport earlier than this year."
Cogley, who travels a lot for work, says running has not only been a great way to see other cities around the world, it has helped him deal with nerves and stress, and it's lead him to cut out his late-night after-work snacking—a common pitfall for a chef's waistline.
Although his lifestyle hasn't always been the healthiest, he says, for the most part his work has always been about lighter fare and pure flavors. "It's about trying to find the purist flavors in every product." He looks for ultra-seasonal ingredients to make things like local vegetable-based sauces and simple seafood dishes. He even uses teas, such as chamomile as a stock.
Some of his favorite dishes? Salmon slowly cooked in a tea-based stock. "Its super healthy, no oils. It's not seared or baked, so it doesn't get over-baked. It just stays in that liquid on top of the stove for about 15 minutes." For breakfast, he goes for Amaranth porridge with apple and chopped chestnuts. "Amaranth is way healthier than quinoa." And, here, he shared this delicious salad recipe (below), noting, "We use a lot of vinaigrettes made with juices, not oils." Of course, he says, there's always room for a little dark chocolate.
For more food inspiration you can follow Justin on Twitter or Instagram @JustinCogley.