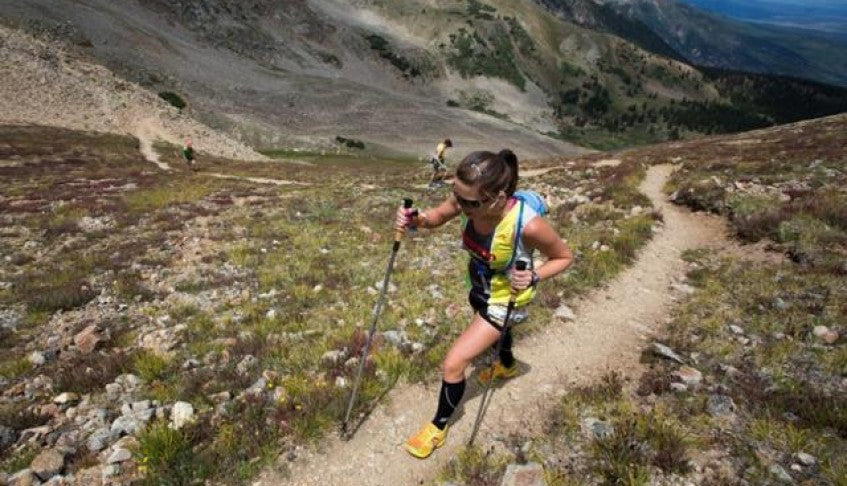 Kara Henry
newton running athletes
9 March 2014
Don't be fooled by Kara Henry's relaxed nature. At the start of a race, it's a different story.
Bacon. Check. Gummy Bears. Check. Coca Cola. Check. Pretzels. Check. Frozen pizza. Check.
These aren't your ordinary race snacks, but then again Kara Henry isn't your ordinary runner. One minute the 29-year-old is doing 6:20-minute pace in a half marathon, look again, and she easily falls into a 15-minute pace for the Leadville 100, where she placed 6th last summer in a time of 23:50 (four hours faster than her first attempt in 2012). But truth be told, 50-mile and 50K races hit her sweet spot. In 2012, she ran her first 50-miler, the Bear Chase 50, in Lakewood, Colorado. She not only won the women's division, she set a course record. "That was a shock," she says. But it also showed her (and others) what she was capable of.
Kara is the first to admit she has a competitive side. "I learned the hard way that I can't do a race as a training run. I go into every race wanting to win whether I've trained or not."
Growing up in Elmhurst, Illinois, Kara joined the cross-country team in 8th grade. She had never participated in competitive sports before and it wasn't really the running that drew her to the team. Rather, it was the fact that her tough science teacher was the coach. She thought if she joined the cross-country team she could get in his good books and get a better grade. But that didn't mean she came to practice ready to run, "I would show up at practices and walk and chat with my friends." That was, until her very first cross-country race. "I couldn't sleep the night before. All I could think about was winning the race." And win she did. This set in motion a strong high school cross-country career that earned her multiple all-state honors and landed her a scholarship to Butler University.
After moving west after Butler, Kara notes, "running took a back seat to paying my bills for a few years." But then, a friend convinced her to run the Quad Dipsea, a 28.4-mile annual trail run in Mill Valley, California, and surprise, surprise, that old competitive nature kicked in without hesitation. She placed second in the women's race. "It's a pretty prestigious race and no one knew who I was." The ultra community would know who she was soon enough.
Shortly after that first race, Kara moved to Boulder, Colorado, in the Spring of 2012 to take a job as the marketing manager at Newton. Since she didn't know anyone in town, she spent a lot of hours running the trails by her self. Then came the Bear Chase 50. "That first 50-miler was the best experience. It went so well for me. I think if it had gone poorly, I wouldn't have kept on with the ultra thing." It was at that race, where she realized what she was made of, "I had such a fun day and really learned to dig from the deepest depths of my own personal hell and get out of it. I learned when you think you can't take another step, you can all of a sudden run 8-minute miles again."
Although Kara knew she had great potential for the distance races, it hasn't been totally smooth sailing.  "In 2012, I screwed up every week. One week I was vomiting, the next race I fell off a cliff, and I got lost. I am really bad with a sense of direction. Some people can look up and know where the car is, if you spin me around in downtown Boulder, I'll get lost. If I'm not paying attention, I'll go left, when I should have gone right." Which is what she did when she went to Texas for the US 100K championships. She took a wrong turn and the next thing she knew, she was tumbling head over heels through cactus. "It's a long way to travel to end up all bloody and in the car before the race was over."
At Leadville in 2012, she entered simply with the hopes of finishing, which she did, but not without hallucinating and falling asleep while running in the wee hours of the morning. "It was about 4am or a bit later. I had been out there for 24 hours and the sun was about to come up again. It's really rough watching the sun rise twice. My friend was pacing me and she was just super chatty, chatty and she would ask me something and 10 or 12 minutes later I'd say, 'what?' She realized I was falling asleep, so she started breaking up Honey Stinger bars and she would make me eat these bites of sugar every 15 minutes. It woke me up."
2013 was a different story. She took a different tact: she trained. "I really focused on a training plan and on the races leading up to Leadville. I was good with nutrition, everything that could have gone well went well." In other words, she won all of the 25-mile and 50-milers she entered, and garnered 6th at Leadville.
So now what? "I'm going to take a year off from running a 100 miler. I'll do a few 50s. I've had this marathon monkey on my back for a couple of years. I've never really raced a marathon. I'd like to get one real crack at a marathon and call it a day." That marathon will be the Twin Cities in October and then she'll focus on Rocky Raccoon, the Trail Running 100-mile championship 100-mile in January, 2015 in Huntsville, Texas.
Oh and about that nutrition thing. She did focus on good nutrition while training last year, but seems like anything goes in a race. Kara's secret weapons are in fact gummy bears—she ate 5 packs of them in Leadville—"a lot of pretzels, some bacon…and cold frozen pizza is this excellent running food, too." And that 8th grade science class? She got an A.