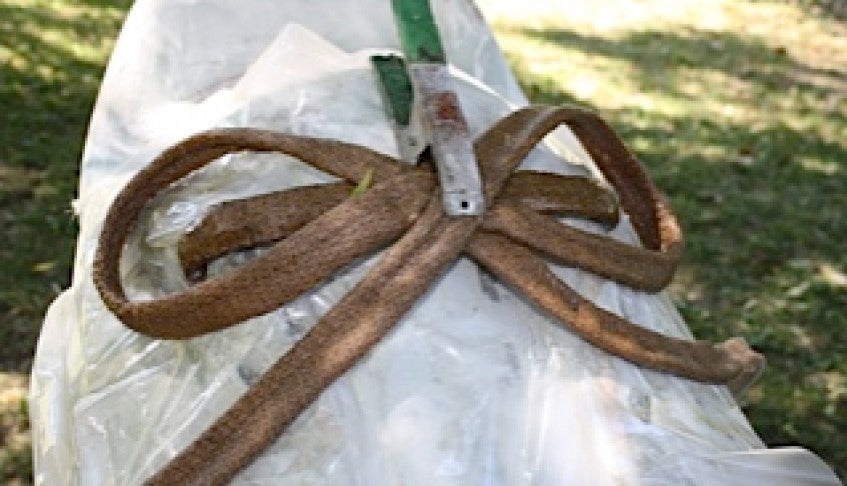 Larger than Life!
just for fun
uncategorized
27 January 2014
Sculptor Bob Zasadny makes a unique pair of Newtons
If you find yourself driving in western Kentucky any time soon, specifically in Madisonville, take a moment to drive by, or even run around the Baptist Health Madisonville Trover Wellness Park, which sits next to the Baptist Health Madisonville hospital campus. Here, you'll find something that looks strangely familiar: a pair of Distance Newton running shoes. But these just aren't any pair of Distance shoes, this pair is four-feet long, roughly 20 inches high at the back and heel and about 20 inches wide—roughly four-times the average sized shoe.
The hospital commissioned Indianna artist, Bob Zasadny, to create the giant shoe sculpture as a tribute for outgoing CEO, Berton Whitaker.  Whitaker, is a runner, who actually runs in the Newton Distance. He also was responsible, amongst other things, for the creation of the Baptist Health Madisonville Trover Wellness Park, which has 10 different fitness stations and a half-mile walking or running trail. So, the real idea here, says Zasadny, is that Whitaker is leaving big shoes to fill.
The other surprising thing about these shoes is that they only weigh about 20 pounds each. Zasadny constructed them out of rigid polyurethane foam coated in fiberglass.  Zasadny worked at a fiberglass company in his early 20s and was always fascinated with the medium. Now, 50 years later he says, at the age of 75, he's still working with fiberglass. "It's an alternative material, but not a widely used thing because it's a unique product. It's not a pleasant material to work with and you have to be a bit technical to work with it." But he says, "It was a perfect media for me because I could manipulate it because of my industrial experience with it. I knew how to fabricate it and I could find artistic ways to use it."
Typically, Zasadny likes to sculpt the forms we see in nature—sand dunes, leaf patterns, flower petals, things that are more organic. "I've tried to incorporate more natural things into my art. It resonates with people, they have to reach out and touch it and run their hands over it. It's a tactile thing that you want to feel and start touching art with your hands." But when the opportunity to create the Newtons came his way, he jumped on it. He hadn't heard of Newton shoes prior to the project, but quickly found a pair to check out. "It was like walking on my socks and a piece of foam, such an airy feeling." The colors weren't lost on Zasadny either. He kept the shoes bright, but instead incorporated the four colors that matched the hospital logo.
So what does it take to complete a project like this? Zasadny says when all was said and done, including making the tabletops the shoes are mounted on, it took him "easily 400 hours. For 6 weeks, I worked 60-70 hour weeks. We were making something that had never been made before." And with that much time invested, you would think he might be worried about the longevity of the sculpture. But, the ultimate beauty of working with the foam and fiberglass materials is that if the sculpture gets a ding in it or is damaged in any way, Zasadny says, "I can go down there and take some material, grind it up and make the damaged area totally like brand new. It's not as tragic for that to be vandalized as it would be for someone else's materials." Long live Newtons!
For more information on Bob Zasadny's art – http://www.bobzabstractsculpture.com/