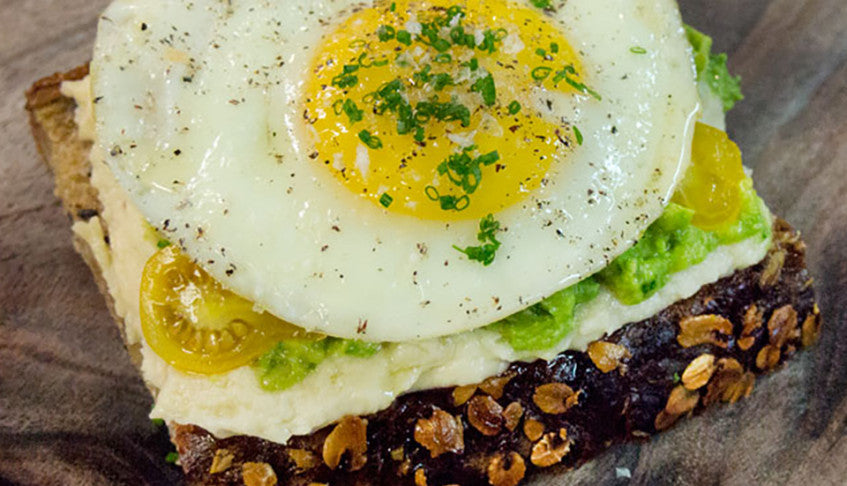 Newton Chef Justin Is Back With Breakfast!
uncategorized
15 September 2015
Step One: Find a little Chef Justin inspiration here
Step Two: Create your new favorite breakfast recipe
Puree of White Runner Bean, Avocado and Egg on Toasted Grain Bread
Breakfast is served!
Ingredients:
Fresh Shelling beans (you can sub dried, if fresh not available)
1 Avocado
Olive oil (or Blended, Grapeseed, sunflower)
Garlic
Salt and Pepper
Cherry Tomatoes
Eggs
Lemon
Chives
Parsley
Multi Grain bread or your favorite
White runner bean puree-  Fresh shelling bean season is going on now, these are great and will make a good amount. You will have extra for sandwiches or even a side with Halibut, Pork, or Steak
4 cups fresh runner beans (shucked)
2 cups oil (I use a canola – olive oil blend)
2 each garlic cloves
1/2 cup of the bean cooking liquid
Salt- To taste
Pepper- To taste
The Juice of Two lemons
Method:
In a small pot slowly heat garlic in oil over low heat. Basically the idea is to release a light garlic flavor into the oil. Heat for around 15 minutes, and take off the heat. Next add the runner beans to a large pot and cover with water (you can use chicken stock or vegetable stock for more flavor) Cook over medium heat for around 45 minutes or longer until tender. Strain the beans and add to a blender with 1/2 cup of the cooking liquid. Start to slowly blend adding more liquid if needed to make a smooth puree. Add the garlic cloves and continue to blend. Next slowly add in the garlic infused oil. This will slowly bring the puree into a smooth sauce. Finally add the lemon juice and adjust the salt and pepper as needed. This will store for 5 days in the fridge. I also top it with some olive oil when storing.
Avocado- I just mash up with a fork and season with a little sea salt and lemon juice.
Egg or Eggs – cook to your preference. I like sunny side up but this would be great with poached, scrambled, ect.
Now to put it together- First Toast the grain bread in a pan with a small amount of butter. (or a Toaster) Next add the bean puree to the toast (around 4 Tablespoons) Add the avocado on top of the puree. Next I add a few sliced cherry tomatoes to add some acidity. Now top with your egg or eggs. and finish with some chopped chives and parsley.
Check out Chef Justin Cogleys profile here.