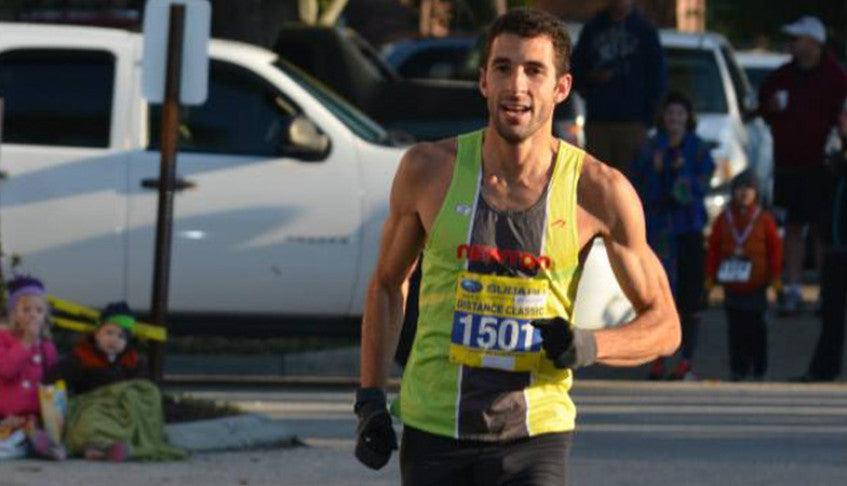 Steady Stephen
at the races
newton running athletes
uncategorized
1 June 2014
Stephen Pifer's running genes might just be the key to his consistent success, year over year
Stephen Pifer has running in his genes and it shows. He has been a natural from the moment he stepped onto the track in 1997 at age 13 and broke an 18-year-old school record with a 5:07 in the 1600 meters. Although his math teacher was quick to point out to him that the 1600 meters is not a mile (technically it's 1609 meters), he's been breaking records ever since. He has competed twice in the Olympic Track and Field trials for 1500 meters and most recently, the soon-to-be 30-year-old qualified for the U.S. Olympic Trials for marathon in February, 2016 with a time of 63.44 in the half marathon. He's also been consistent. He's run a sub-4 minute mile for 9 years, and hopes to make a decade of running sub-4s later this year.
You don't have to look far to see where Pifer's running genes came from. His grandfather started the running program at Southern Illinois University at Edwardsville. His uncle was an All American at the same university and still holds the school record for the 800 meters. He went on to run marathons and eventually became Pifer's high school coach before moving to Colorado to continue coaching. Both Pifer's parents ran track in high school, too.
But before Pifer could commit to follow in the family footsteps, he had some things to do. He played soccer and basketball. In his freshman year of high school he made the Junior Varsity basketball team and basketball was his passion. But in this same year, his uncle recorded the Footlocker HS Cross Country Nationals.  Pifer watched the race and decided he wanted to go to this meet. His basketball coach was none too happy, when Pifer told him mid Freshman season that he was quitting to focus on running.
By the time his senior year rolled around, Pifer was a five-time school record holder and a two-time All-American in the Distance Medley Relay and the mile. That year, he became only the 6th man in Illinois's history to win the Cross Country, 1600-meter and 3200-meter State Titles in the same year. And yes, he finally made it to the Footlocker HS Cross Country Nationals where he placed 14th.
This was good enough to land him a scholarship to CU Boulder where despite a rookie mistake that sidelined him for most of his freshman year, he garnered strong results. "Freshman year things went up and down. I got hurt running on the Mesa Trail. It was a Rookie mistake, trying to be a showoff. I watched my teammates go to the Nationals for cross-country." But things picked up from there.

Pifer became an All-Conference finisher (Big 12) four times and an All-Regional finisher three times in cross-country. He made Nationals and was an individual All-American four times. Although his team won two national titles, winning the Big 12 Conference in 2008 as a team was the highlight of his time at CU. "Not to take away from the NCAA championships, but winning the Big 12 title as a team was the best. We had a good group. It was a real team effort." He credits the coaches for fostering this team spirit from the get go. "As Freshmen, we had a dodgeball team to try to tie everyone together. We were the 'Track Whackers'. We had long jumpers and shot putters, we all knew each other and that synergy we developed led us to win over these powerhouse schools." It was on the CU track team that Pifer met his future wife, Laura Zeigle "a stud runner in her own right," he says.
From CU, Pifer headed to Portland in 2009, to run for one of the larger shoe companies. Where some runners struggle outside of college, Pifer still felt he was part of a team and as a result he had one of his best years yet, including a 4th -place finish in the 1500 meters at the USA National Championships. It was during this time, he and his wife started a family. "I was in a position where I didn't have to work another job. I could train and hang out with my family and then go train again. It was pretty awesome."
It was also during this time that his uncle, who was still coaching in Colorado, showed him a pair of Newton shoes. "I thought they looked crazy." He appreciated being up on the ball of his feet, but he wasn't sure about this new shoe company. But then a college friend went to work for Newton and a few years later as Pifer's contract drew to a close, he says, "I noticed Newton was still around. I figured they're obviously doing something right." The next thing he knew he had landed a job with the company as a tech rep in Florida.
Having become used to getting free shoes in college, he said, "I had to look it as though it wasn't me buying the shoe, because I go through a pair once every 6-8 weeks." But now when he considers durability and dollars per mile spent, he says, "I get way more miles out of my Newtons than I did for any other shoe I've ever worn."
Having recently relocated to Colorado for Newton. Pifer was psyched to be chosen to run on one of the Bolder Boulder elite teams with his fellow Newton teammates Tyler McCandless and Fernando Cabada. Now, as he looks toward the ensuing Olympic marathon trials, he says, "Consistency is definitely something to be proud of. People get injured if you're overdoing things. I am not getting faster, but I'm not getting slower. Hopefully, I can PR, I'm not ruling that out."
As for his boys, between his wife and him, one can only assume the running genes found their way to them as well. But Pifer will let them find their own way to running, just as he did. "If they want to do it, I think they'll have the talent," says Pifer. For now, he says, they're doing jumps on their scooters, rock climbing and hiking, and taking advantage of everything Boulder has to offer. Pifer adds, "We're just having fun."