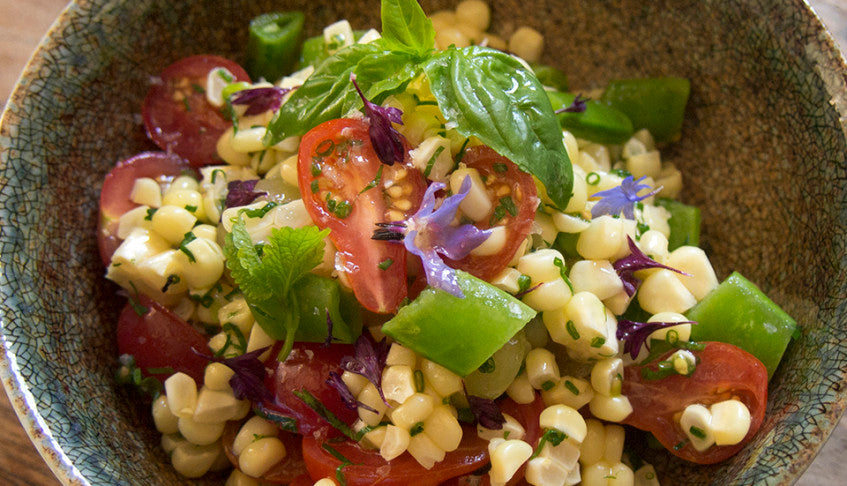 Summer Salad, compliments of Newton Chef Justin
uncategorized
31 July 2015
Newton's resident Chef Justin Cogley (also the Chef at Aubergine in Carmel, California) has created the ultimate salad for Summer Runners:
Serves 4 (or one person post long run)
Ingredients:
6 ears of corn (shucked and cleaned)
2 cups of cherry tomatoes (mixed heirloom)
2 cups sugar snap (cleaned and cut in half)
4 tbsp. olive oil
2 tbsp. vinegar (citron vinegar)
2 tbsp. chives (sliced)
2 tbsp. parsley (chopped)
2 teaspoons toasted and crushed cumin
Sea Salt and Pepper to taste.
Method:
Bring a large size pot of water to a boil, season with salt and blanch snap peas for 1 min. Shock in ice water. Drain and reserve.
Bring water back to a boil and blanch corn for 2min. Shock the Cobb in ice water, and when cool cut the kernels off and add to a mixing bowl. Add the blanched snap peas to the bowl.
Next. Slice the cherry tomatoes in half and add to the corn and snap pea bowl.
Now add the olive oil, vinegar, chives, parley, cumin, salt and pepper. Taste and adjust seasoning as necessary.
This salad is best enjoyed the day of. The vinegar well start to brown the beans slightly if left overnight.
Tip: I use some really nice vinegars at Aubergine, because they can add such a great flavor. Vinagire de citron by Huilerie Beaujolaise is amazing and you can find it at specialty food shops.
From the Newton Kitchen to your dinner table…