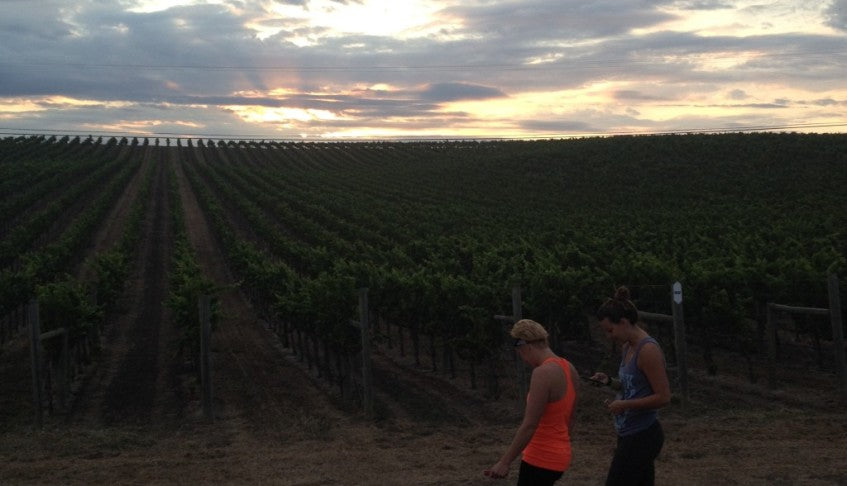 Stop and Sip the Guinness
at the races
behind the scenes
fitness
just for fun
newton running athletes
race reports
uncategorized
23 July 2015
Enter here for your chance to win a trip to the Napa to Sonoma Wine Country Half Marathon in 2016:
Below is a true story, as told by Newton's VP of eCommerce David Dunn: I've spent the past year raving about an exceptionally unique half-marathon with an aid station that serves Guinness. Because I am a serious beer enthusiast, those closest to me always ask "…you drank some right?" And my answer, begrudgingly, "…no….but next time definitely." The past two years I've been fortunate enough to support Newton's presence at the Napa to Sonoma Wine Country Half Marathon. It's a tough job. The original and most popular race in the amazing half-marathon race series presented by Destination Races, The Napa to Sonoma Wine Country Half is truly a celebration of all we love about the sport of running. Now I'm not one of the Newton runners whose results show up in the weekly race report. I'm a 9:00 mile guy with a fullback frame that fits well with my penchant for beer. But I do love to run. And in 2014 I came to this race feeling fit. Fueled by my competitive side, I put my head down and pushed my way to the finish in a respectable time. But with the memory of that missed Guinness station lingering, I vowed to make 2015 a different experience. To slow the pace and find every opportunity to absorb all this spectacular race has to offer. At the start line, as the sun broke through the clouds, I meandered through stunning rows of grape vines lining the entrance to the Cuvaison Estate, and settled in between the 2:00 hr and 2:15 pace groups.
A call went out for a volunteer to sing our National Anthem. An unabashed Bostonian quickly jumped in and grabbed the microphone. Entirely off-key, he passionately and respectfully belted out the Star Spangled Banner with enough enthusiasm to inspire participation from virtually all his fellow racers. It was the first of many wonderful moments that made this a day to remember and characterize the unique spirit of this race series. I ran the early miles with a runner from Texas who took the time to properly thank virtually every volunteer he passed on the course.  
I stopped to listen to a Jerry-Garcia look-alike and his band play an exceptional rendition of Brown-eyed Girl.
I heard the roar of the crowd as the race director's 81 year old mother crossed the 5k finish line. I laughed with my colleagues hula-hooping at the post-race festival.
The Napa to Sonoma Wine Country Half certainly isn't the only race to offer a festive race day experience. And there's nothing wrong with racing hard and chasing a goal on the clock. It is a race after all. But for this average runner, on this day, this race gave me a refreshing reminder of the celebration of the social running experience. One I don't often allow myself the opportunity to enjoy. Thank you Destination Races.  By the way, somehow that keg of Guinness didn't make the 2015 course. But don't worry, I managed to find an alternative or two.
I hope to experience more Wine Country Half Marathon events in this series soon. You should too. Registration is open for many of these great events.
Enter here for your chance to win a trip to the Napa to Sonoma Wine Country Half Marathon in 2016: