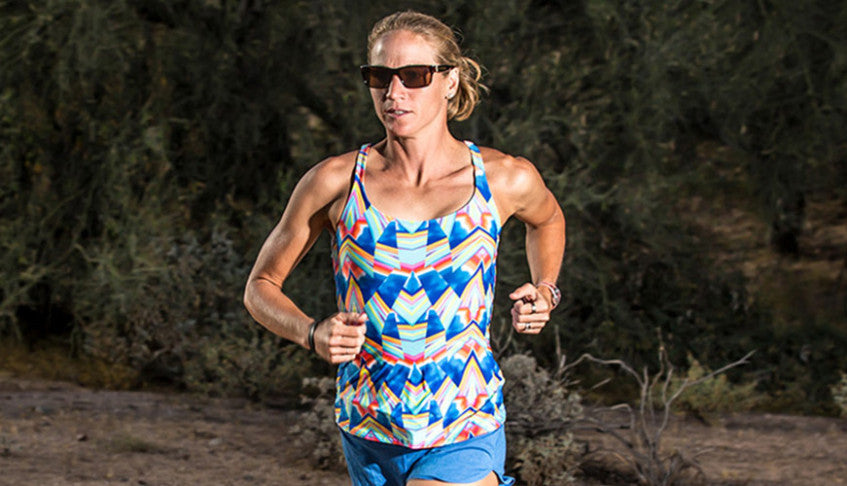 Triathlon Tip #1
at the races
fitness
newton running athletes
nutrition
21 February 2019
Thinking about taking on a full or 70.3 Ironman Race, but don't know how to train? We've compiled expert advice from Newton Running professional athletes to let you in on their training tips. We cover everything from how to eat right while on the road, how to get the most out of tempo runs and how to improve your bike to run transition. Training shouldn't feel like a chore, so get the most out of your training and have fun!
Staying Nutritionally on Track while Traveling
By: Dr. Amanda Stevens; Professional Triathlete

You've put in the hard work and mileage for your next race and are excited for your upcoming race adventure. A lot of times you have improved your nutritional choices, either consciously or subconsciously, throughout your training and preparation. But as race week and travel
approaches, this is one of the most often overlooked factors to your success on race day. For me, I've got several food allergies/sensitivities along with being Celiac, so I have to be super careful with food choices while on the road. I've found that the biggest factor in determining your 'success' is planning ahead! Here are my top tips while traveling.
1. Keep your diet as close to what is 'normal' for you in the week leading up to the race. Hopefully this is a balanced diet full of LOTS of healthy fats, low-to-moderate carbs, and sufficient protein, coming from whole/real food choices with minimal (if any) processed foods.
2. Either book accommodations on websites like VRBO or Airbnb that offer kitchens or hotels that have a fridge/microwave or kitchenette. If you are a 'foodie' and want to explore local food options, save 'experimental' foods until after the race by sticking with tried and true options in the days leading up to the race.
3. Travel with a few items that can help with food prep. My suitcase generally has more kitchen items in it than clothes! Here's what I pack: Ninja Express Chopper/Blender, Mini-Rice Cooker (can be used not only for rice/quinoa but also for eggs, steaming veggies, 'grilling' chicken or other proteins, and more), Palm Peeler, Measuring Spoons, Knife and cutting board, travel can opener, ziplock bags and steamer bags (awesome in a pinch when your only option is the microwave), and camping bowl, plate, and silverware as they are lightweight and collapsable to take up minimal suitcase space. I also usually throw in a few
spices in small jewelry sized bags.
4. Race Day Food. Whatever you are planning to eat for breakfast and during the race…be sure it is in your suitcase, as there is no guarantee your destination will have exactly what you want.
5. Comfort Foods. For me this is my favorite chocolates. For Randy…coffee!
6. Travel Food. The biggest obstacle here is getting your food through TSA security without anything getting confiscated. I have an awesome Food Bag by PackIt that is freezable and TSA approved. I fill this up with travel day snacks and any other 'must-haves' for the trip that require refrigeration. I've also got a set of camping silverware that is more durable than plastic silverware and is allowed through security too. If you have something that is liquid, semi-solid, or gel/paste-like there are a few way to ensure it passes the security scrutiny.
Carry it in individual serving packets (ex: nut butters, chia/flax seeds); use several travel containers that are 3.4oz or smaller, or you can freeze so it'll be solid going through the scanner and will thaw out along the way (coconut water; butter (yep, I always travel with butter!); coconut oil). Its always a good idea to throw in a few empty ziplock freezer bags that you can fill will ice once through security.
7. If driving in a car, pack a cooler. Most of the time we go into auto-pilot and try to reach are destination as fast as possible (you just have to beat the GPS arrival time, right?!)…but taking a few extra minutes to drive an extra mile or two off the exit, can give you much better options than gas stations and fast food. Grocery stores and mini-marts come in quite handy.
8. Hydration. Take an empty water bottle and/or Tumbler. Fill up with water before getting on the plane. You can even take tea bags and make some hot tea on the plane.
9. A few suggestions for travel food: Nuts/Seeds; Nut/Seed Butters; Avocados, Hard Boiled Eggs, Fresh/Frozen Fruit, Veggies and Hummus, Whole Food and/or Fruit Bars, Baby Food Pouches, Lunchmeat, Pre-Made Salad/Wrap, and Leftovers.
10. Post-race: Celebrate and Treat Yourself to something special and savor the local flavors!
Happy Running!