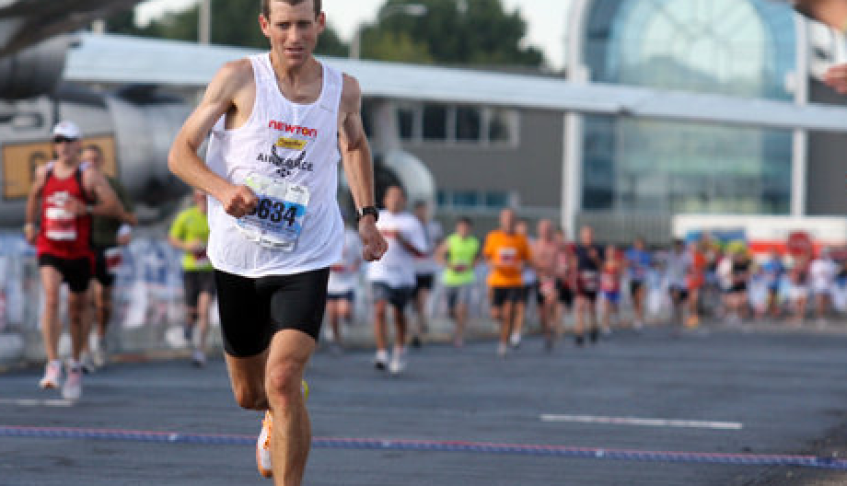 Winning the Air Force Marathon: Natural Running Center's Dr. Mark Cucuzzella, 44, Placed First in 2:38
running form
19 September 2011
Reposted with permission from the Natural Running Center
When I got the email late Saturday morning from Mark with just two words in the subject line, "I won!", my digital jaw dropped in astonishment.  Just a few weeks shy of his 45th birthday, Mark topped a field of 2,500 runners at the 2011 Air Force Marathon, which  started and finished at the Wright-Patterson Air Force base in Dayton, Ohio on September 17.  In addition to being fleet of foot, Mark is a Professor of Family Medicine at West Virginia University School of Medicine as well as a Lieutenant Colonel in the Air Force Reserves. Wanting to know more about his amazing victory — he won by five minutes in a time of 2:38– I fired off several questions to Mark and he  quickly responded.  So without further delay, here's our exchange. But first, all of us who are involved with the Natural Running Center, are extremely proud of the NRC's co-founder and executive director who showed that age should be no barrier or hindrance to performance. — Bill Katovsky
You last won this race in 2006.  What were the differences between now and then in terms of your training?
I last won this race in 2006 just shy of my fortieth birthday.  In 2006 life was a lot less busy.  I had time then to focus more on my running and do some of the harder sessions necessary to run fast.  Currently running fits 100 percent  in the relaxation part of my day; if it did not the running and life in general would not be sustainable.  In 2006 I would do marathon pace 2 hour runs in the 6 weeks leading into a marathon.  Now my long runs are all relaxed and low heart rate, and no more than 2 hours.  I did no traditional interval sessions then and I do not do these now either.  I do really short neuromuscular work several times a week with 4 short 50 meter strides and light skipping drills to wake up the recoil and springiness in my stride. In 2006 I started to run in level shoes, now I run barefoot or minimalist in training. So that's another progression.
How many times have you done this race?
Looking back this was my eighth race and sixth in a row.  I was second in the inaugural race losing to a college rival runner Andy Herr out of NC State.  He beat me in college XC and translated that to the marathon.
Here are the years, times, and place
1995                  2:32                  2nd
1996                  2:34                  3rd
2006                 2:31                  1st
2007                 2:34                  5th
2008                 2:39                  6th
2009                 2:44                  4th
2010                 2:42                  5th
2011                  2:38                  1st
One other note. Out of close to 80 marathons that I have raced, only have 2 have been over 2:45 and 24 of last 25 years with a marathon under 2:40, 22 of the years under 2:35.
Mark was flying in his new 5-ounce, zero-drop Newton MV-2's.
What shoes did you wear in 2006? And in Saturday's race?
In 2006 I was wearing a Brooks Burn. I was sponsored by them at the time.In 2011 I wore the new Newton MV2.  This is a 5-ounce zero-drop shoe which is firm and responsive.
Given that a majority of your training is barefoot, what are the differences in racing shod?
I want something with a close to barefoot feel; that is a firm shoe with no heel elevation.  Also need a nice toe-box so I can use my "Correct Toes". These keep my big toe in the right position for stability and spring.  You can run faster on this course in shoes than barefoot.  There are lots of rough stretches of pavement which would be tough at 6 minute pace in bare feet.  To race a marathon you need to be in total relaxation mode and let it go.  Barefoot on unfamiliar textured terrain is a challenge in itself.  You can go more reckless in shoes too as you can get away with flying down the hills, and which is a good thing in a race.  The Newtons are different as they are not traditional soft foam, but rather a firm TPU membrane with recoil properties.  To me this enhances efficiency, and does not sap it away like traditional EVA.
Will you ever run a full marathon barefoot?
Sure, I need to find a nice scenic course with a good smooth road.  I would not "race" this either and rather focus on smooth technique and enjoying the day.  I ran Big Sur several years ago.  This would be a nice barefoot run, or Napa Valley and finish with a nice glass of red.
How many miles do you train per week? And do you do any other sports or physical activities?
I probably log 50-60 miles with a long run of 1:45-2 hours.  I play in the backyard often with my dog and kids.
With your incredibly busy schedule of being a family physician, owner of Two Rivers Treads, and frequent travel to speak at sports medicine conferences and clinics, how do you even find time to run?
I run when there is opportunity, often very early in the morning and sometimes at lunch.  The beauty of running is that you can run anywhere and anytime.  I have a headlamp for running in the dark
Does everyday stress ever affect your training?
I use my running (and deliberately shun the word "training") as the daily reset button.  The harder and busier the day is the more I need to do an easy run.  This relaxation counters the sometimes toxic levels of stress that comes with being overextended.  If running were another stress it would not be sustainable, therefore all of my running is relaxed. Often people read schedules developed by elite athletes and they have weekly strenuous sessions. Now if you are an elite athlete and the rest of your day is the relaxing part then you can add frequent stressful workouts.  For 99.9 percent of all runners this is not the case.  We all have busy and stressful lives and the running must fit into the "yin" of the "yin and yang" circle.
How did you celebrate after the win? Were your legs sore?
I have a trace of soreness now 24 hours after the race.  At the post-race tent I celebrated with teammates with a few beers, a pizza, and later  2 glasses of wine (good mixed fat, protein, and carb recovery).  When I got home that night my family had a nice Boston Crème pie waiting.  This was the real celebration.  To my two kids, it was if I had won the Olympics.  I brought home a really big trophy and they loved it. They made me congratulation cards with crayon drawings of Daddy leading the pack. On Sunday morning I ran 40 minutes barefoot and felt really good considering the hard 26 yesterday.  I even mowed the grass too for an hour with a push mower.
What was it like to be out in front the entire race? Were you in a state of suspended disbelief, thinking "where is everyone?"
When you run a marathon you just focus on your own pace and feeling.  I had plenty of company with a police lead car and 4 Military Police on bikes next to me.  So at least I felt safe and did not need to think about turn. I just looked ahead at the car.  There were tons of spectators out in the towns, at the aid stations, and on base. So it was never lonely.  At least 20 bands too and since I was the first runner they really cranked it up.  Heard some AC/DC, Zeppelin, Elvis, and lots of other spirited tunes to give me a little boost.
How many other runners in their 40s in the U.S. can go sub 2:40?
There are quite a few 40 year old runners who can run this time; at 45 years, not too many
How was this race different than Boston 2011 when you ran 2:37?
I consider the solo 2:38 yesterday a better performance.  In Boston we had a nice tailwind, there are no turns, and there is always either a group to break the wind or another runner you are chasing.  To solo run a 2:38 on a course with several hills takes more effort.
Some of the runners in the Air Force marathon were half your age!  Yet, you were able to flick on your afterburners for  26.2 miles and they weren't.  Why is this so?  How does one build up endurance and speed?
Running is all about efficiency and economy, a term Dr. Phil Maffetone calls "aerobic speed".  This is the speed you can achieve while still in your true aerobic zone (where a good portion of fuel is fat).  Go a little faster than this and you are burning all glucose/glycogen.  We only have an hour and a half of glucose/glycogen in the tank so this strategy does not work for a marathon.
I do almost all my running is very relaxed at a  heart rate  of about 145 or lower and do supplemental short 50 meter sprints and light plyometrics to keep the range of motion and "quickness".  You want to be able to run "fast" without running "hard." That is the secret.
I work on kinetic chain strength and stability also by spending a lot of time standing on one leg.  I do not have a chair at my desk and do most of my working at a stand up desk.
The day before the race you were on your feet the entire day giving talks on footwear education and running. What were some of the topics you covered? And, weren't you tired by the end of the day? So much for taking it easy the day before the race.
Yes it was a busy couple of days giving talks at the expo and speaking with fellow soldiers about their running.  I covered the basics of a program we are about to launch called "Efficient Running". We are tasked to build self instruction modules for soldiers on aerobic development, core strength for running, and running mechanics.  The talks brought much interest and curiosity.  Runners cornered me for an hour after each of these talks to get advice on their injuries.
What did you eat the morning of the race? Did you eat or drink anything during the race?
My usual breakfast is several cups of good coffee (this is normal for me), a couple bagels with peanut butter, and a banana.  I eat about 2 hours before the start and then have a Power Gel at the start.  I use a Power Gel every 30 minutes during the race and take only water.  I do not drink beyond what my body senses. So maybe 20 ounces along the way yesterday.  It was cool.
Dr. George Sheehan, the late philosopher king of running, dealt with his declining marathon times by cutting back on the frequency of runs per week. Instead of going five miles a day, six times a week, he reduced that amount to running three times a week while boosting his mileage to ten miles per run. He was still running thirty miles per week, but it was offset by additional rest days. He stuck to this training regimen for three years, and at the age of sixty-two, Sheehan set a personal best in the marathon by going 3:01. Can you see yourself going even faster in the marathon in years to come?
I think I could run faster if I chose a goal race and life calmed down enough to do some of the necessary harder sessions to really get into "race" shape.  Currently, there's not enough time to sleep and recover so the running can only be easy.  With the right prep and the right race I think I can go under 2:30 again.  I've run under 2:25 a couple times in my 20's, but doubt I'll get there again.  But really the times don't matter.  I'm happy to be able to wake up and run pain free even if I never raced again.  In some ways though I feel obligated to jump into the races since a big mission of the Natural Running Center, Two Rivers Treads, and the United States Air Force Efficient Running is sustainable running. If I were just another "former runner" trying to tell folks what to do it would have no credibility or relevance.  I'm learning and experimenting everyday too.
What's up next on Dr. Mark's race calendar?
The biggest running challenge is a race where I'm not running but directing.  On October 1, we're hosting nearly 3000 runners in Shepherdstown with Freedom's Run (www.freedomsrun.org).  I direct the race and believe me that when I say running a marathon is easy; you just show up. Finally, come see our new Two Rivers Treads blog calledRun Shepherd. We just posted a short video of one returning Freedom' s Run competitor, Don Taylor, who is 80 years old!
I have Marine Corps Marathon late October. I will be part of Air Force team.  This will be my nineteenth Marine Corps. This was my first marathon in 1988 and I ran a 2:34. It would be fun to achieve that time again. I will run the JFK 50 mile in November to finish the fall running season.