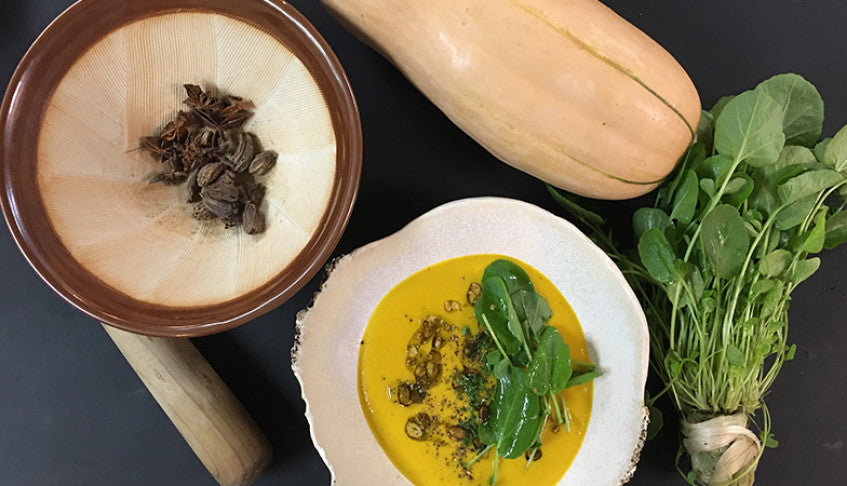 Butternut Squash Soup
just for fun
newton running athletes
nutrition
25 October 2016
Newton Running athlete and chef Justin Cogley has done it again! This time he brings us a fall-favorite, Butternut squash and fennel soup with fried pumpkin seeds, watercress and black cardamons.
"As the temperatures start to drop in many parts of the country, there's no better way to warm up than with a warm soup! This butternut squash and fennel soup has a smoky, unique taste from the black cardamon that is a nice surprise."
Serves 4
Ingredients
4 tbsp olive oil
2 each butternut squash (about 2 1/2 lbs each) peeled and medium diced
2 fennel bulbs (sliced)
2 tbsp peeled diced fresh ginger
1/2 cup tomato juice or V8
1/2 gallon purified water or vegetable stock
3 each star anise
3 each black cardamom (cracked no shell)
Sea salt
1 limes (zest and juice)
Method
Heat a large sauce pot over medium heat and add the olive oil, diced squash, sliced fennel, and diced ginger.  Cook over medium heat until the squash and fennel are soft about 10 minutes.  Next add the tomato juice, stock or water, and the spices. Slowly cook over medium heat until the stock is reduced by half. About 30 minutes. Remember every stove is different so you might have to add more stock or a little more cooking time. Finally, blend the soup in a couple batches in a blender or use a hand blender. Check the seasoning and add salt and lime juice to taste.  Enjoy now with some watercress and fried pumpkin seeds or chill the soup for later.
1 bunch of watercress (you can sub arugula) Just toss a hand full with some olive oil, lemon juice, and salt.
The pumpkin seeds I fry in 375 degree oil just for 10 seconds and drain them on paper towels seasoning with fine sea salt. I fry about 1/2 cup at a time in a medium large sauce pan in grapeseed oil or a canola blend oil. Once cool they will keep for a week but I always snack on them so they never make it that long.
Chef Tip: If you have a juicer you can juice some raw butternut squash and use that fresh juice to thin out your soup.