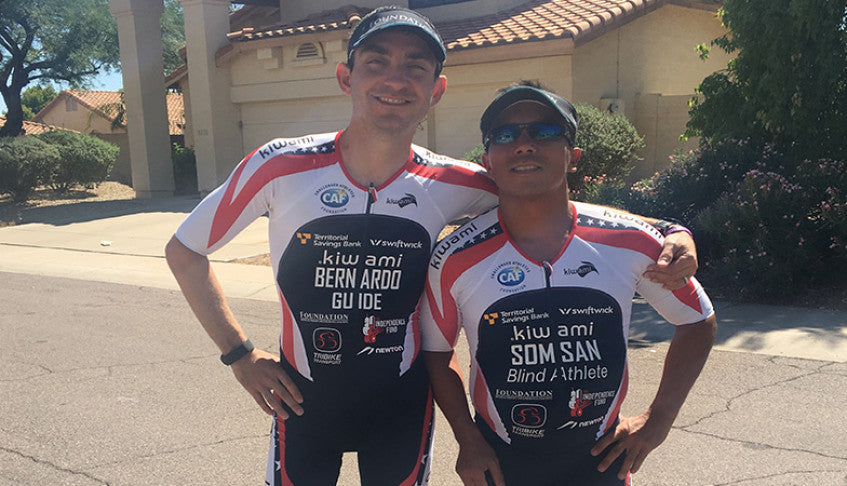 #Extraordinary – Michael Somsan
newton running athletes
4 October 2016
After suffering a gunshot wound to the head in an altercation, war veteran Michael Somsan was left completely blind and faced with opening a new chapter in his life. In this quest, Somsan decided to take on the impossible and make it possible, each and every day. This is exemplified in his #Extraordinary professional, athletic and philanthropic pursuits following his accident.
Motivated by the fact that the person who shot him never faced a judge or justice, Somsan went back to school to earn his law degree. Once becoming a lawyer, Somsan extended his services to support Modest Means and the Military Legal Assistance Project, both of which provide legal services to those in need.
A lifelong runner, movement became challenging for Somsan after becoming blind. He said, "I was scared to walk down a hallway", but with his "no quit" attitude, Somsan refused to give up on running. "Running was the freedom to be outside and enjoy nature. It was very peaceful to me. I needed that part of my life back." With time, Somsan became more and more comfortable navigating around and found running to be therapeutic again.
Since losing his sight over 20 years ago, Somsan has run too many marathons to count, completed two long-distance triathlons and is currently preparing to take on the long-distance triathlon championships in Kailua-Kona, Hawaii on October 8, 2016.  As one of five physically challenged athletes chosen to participate, the opportunity is a dream-come-true for Somsan. Growing up a local Hawaiian boy, he dreamt of running through the finish line on Ali'I Drive, and that dream will become reality this year.
This retired First Lieutenant, lawyer, philanthropist, aspiring triathlete and single dad has not and will not stop at anything to achieve the same dreams he had before he lost his vision. His legacy has always been about never giving up and always giving back. He also fights to instill this commitment into his young daughters. The family motto of "never give up and never be defeated" certainly comes to life when Somsan takes on life.
"It is in our uncommon endeavors where the #Extraordinary can be discovered." – Michael Somsan
Michael's shoe of choice is the Newton Running Gravity V!