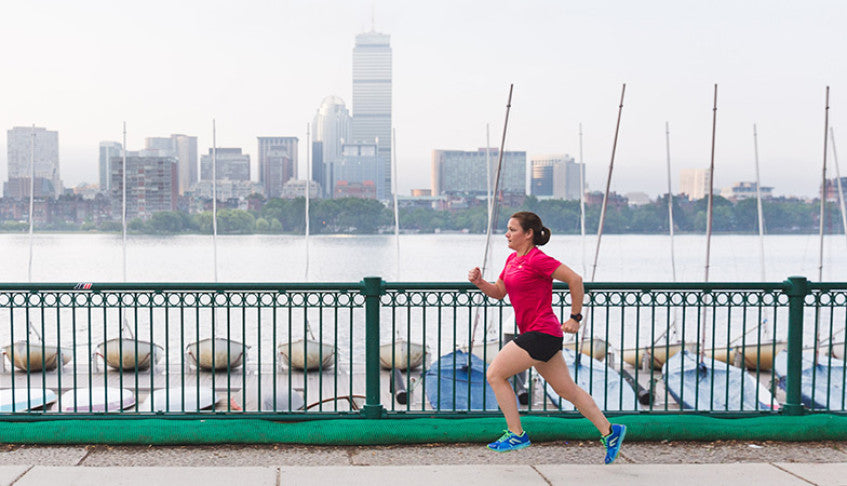 #Extraordinary – Becca Pizzi
fitness
newton running athletes
overcoming injury
14 July 2016
This New England native may only stand at 5'1" but her ambitions and dreams are sky high. Becca PIzzi made history this year as the first American women to complete 7 marathons, in 7 days on 7 continents. You may be asking yourself, how and why did she do this?
It all started at the age of 6, when Becca first started running. Her Dad, a runner, was her inspiration, so naturally at the age of 7 Becca signed up for her first race and hasn't stopped since. On top of averaging 70-100 miles a week in training runs, Becca has run a total of 52 total marathons, 15 of them being Boston, in 24 different states and on 7 different continents!
When Becca first heard about the World Marathon Challenge, she knew she wanted to compete in the event, and that is exactly what she did. She went from Antarctica, to South America, to North America to Europe to Africa, to Asia and finished out the challenge in Australia. The $36,000 trip, (that was covered mostly by sponsors) accounted for 59 hours in the air (10 hours a day), 24,000 miles in the air, 183 miles of running, eating at 33,000 ft. and averaging 7 hours a night of sleep in the lay-down beds on the plane. Despite the logistical and lifestyle challenges, Becca was able to pull off what no other American woman has done. She ran 7 marathons, in 7 days, on 7 continents in 27 hours, 26 minutes and 15 seconds!
World Marathon Challenge 2016 medals. (Robin Lubbock)
Becca is a mom to a 7 year old daughter, owns her own daycare, manages an ice cream parlor and on top of all that, manages to make time for the sport she is most passionate about; running. Before the start of this #Extraordinary journey Becca said, "It was a mind game, you know, and I thought from day one, you're going to have to get real comfortable being uncomfortable."
In addition to her responsibilities as a mom and runner, Becca is passionate about running with the Boston Bulldogs. This co-ed group is a non-profit group that supports those battling addiction and those who are currently in recovery. Over the years this group has become a community of support encouraging physical, emotion, and social benefits of running and overall health.
So, what's next for Becca? She says she's going to take on an Ironman and complete her own 50 state marathon challenge. Becca has already crossed off 27 states!
Becca Pizzi runs in Newton Running Kismet II's and Newton Running Gravity V's