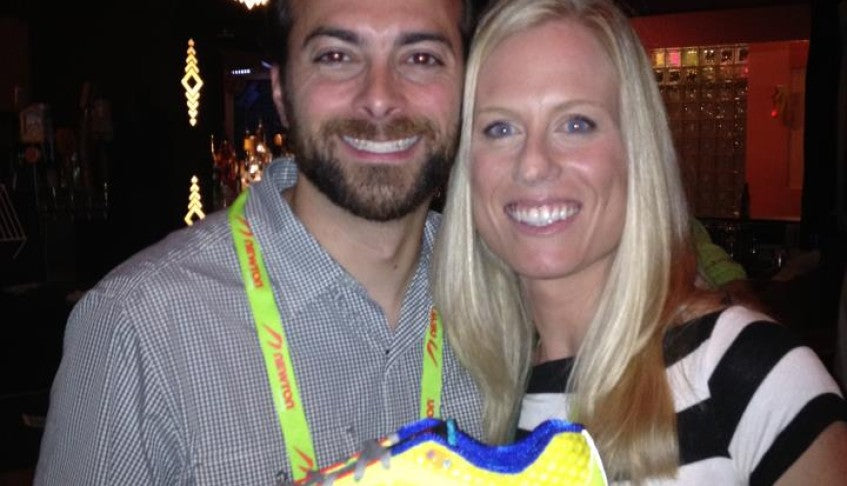 Red Coyote Running and Fitness
education
retail news
4 November 2013
If you're headed to Oklahoma City be sure to check out this running hot spot.
Jon and Burke Beck have both been running since high school. They ran Division 3 in college and worked in running stores after they graduated—Burke, near Washington, DC and Jon, in Rochester, New York. The two met, in San Diego, where Jon relocated to work for a larger running company and Burke had moved to work at another running store. From San Diego, they moved to Portland, where they continued to work in the industry. Together, the young couple talked about someday owning their own running store. Maybe when they retired. They didn't imagine it would happen now, let alone in Burke's hometown of Oklahoma City.
"Burke always said she would never move back after she left for college," says Jon. But when the couple headed back for a quick weekend trip to see family, they visited a local running store and were disappointed in the quality of service and running expertise. The seed was planted. "Burke's dad said 'it's a great time to open a business in Oklahoma City,'" explains Jon, and the seed was watered.
But it was true. A lot of companies, were moving headquarters to Oklahoma City and there was a new demographic of young professionals in the city.  By the end of their weekend visit, the couple had checked out the local competition, picked out possible store locations and said, "Let's do it." Soon after, they lined up funding. In August of 2009, they moved back to Oklahoma. In March of 2010, they opened their store, Red Coyote Running and Fitness (named after their dog "Pancho," who happens to look like a red coyote).
Seeking innovative products that matched their focus on quality, Red Coyote became the first to offer Newton in Oklahoma City, a feat they're proud of. "I was running at the lake and I saw 15 people running, five were wearing Newton shoes. It makes me smile because we opened Newton here, and we're the ones who sell it," says Burke. But the couple credits Newton for laying the groundwork. "When we had our grand opening, Newton was the only brand that came out for it, which showed us their commitment. Timmy came and he took customers out for runs in the shoes." She adds, "When we opened, people hadn't heard about them. But we've had staff on board from the beginning and bringing them out to customers. They're not just for elite runners. You can bring them out for anyone.
"I think word of mouth helped us grow the brand. People have such a different experience in Newton's, they really love it and they tell their friends, 'you've got to try these shoes.' It's been an easy sell for us."
The "easy" part is matched by the effort and passion the Becks bring to their store and the running community. It's been a busy three years. Aside from opening the store in March 2010, they were married in May of 2010 and had a son in March of 2013. At the end of March, they moved into an expanded new location. Looking back on the whirlwind of the past three years, Jon says, "Oklahoma was very under-served or untapped. There were a lot of people running. We have one of the biggest marathons in April every year, but there weren't a lot of events and groups or opportunities to get together to have a fun run." Furthermore, no one was doing learn to run or training groups.
Jon and Burke began to sponsor events as well as host training groups at the store. "We started the newbie program and that has just taken over. First, it was 50 people twice a year, now it's over 200 and it's a 10-week program. It's booming. All of our groups are growing and we're seeing other training groups and social groups spawning from that." Their Pack Pint Runs—a run followed by beer—every Thursday night are also popular.
Burke adds, "Oklahoma doesn't have a very developed elite running community, but there are a lot of new runners and people just getting into the sport and the community is really organizing. I would attribute it to that younger professional group looking for something to do. And now, we're getting family and kids, too."
The store's fast-growing popularity has not gone unnoticed. Outside magazine wrote about the Thursday night run and Competitor magazine named the Red Coyote one of The Best 50 Stores in the US (an honor considering the magazine rigorously evaluates 1,000 running stores). It also was nominated by Competitor with three other stores for Best Running Store of the Year, and was the youngest store ever to be nominated for this accolade.
Of the community support, Jon says, "We have been surprised by how much the community has come out to support us in only 3 years. The community rallied around us and what we've done to support them and they have come to support us." Burke adds, "There was a niche to fill, but Oklahoma has a friendly group [in the running business], and from what we can tell, everyone is up. The growth that we have helped in the community has helped them as well." Run on Oklahoma!