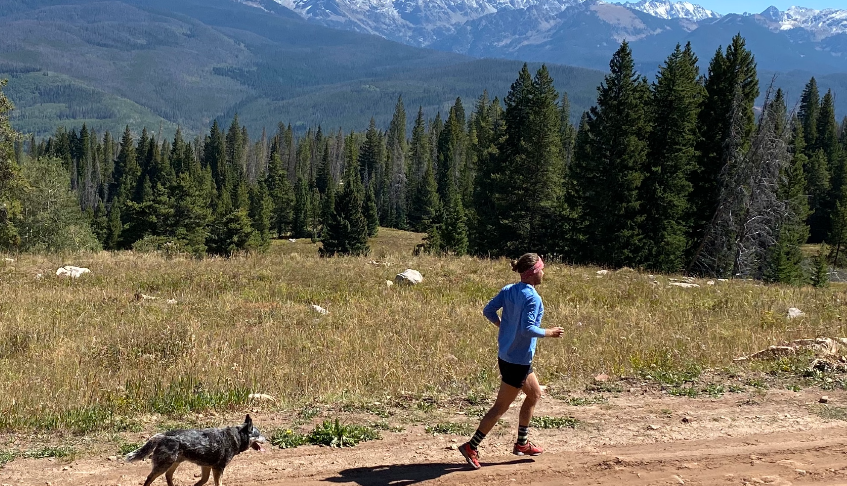 Thinking About a Colorado Trail Runcation?
6 November 2020
By – Andrew Maxwell – Newton Running 
Over the past few years I've worked hard to perfect planning awesome Trail Running Getaway's. Adventures with an appropriate mix of roughing it, accessibility and proximity to great running trails. This summer, I decided to bring Chuck, my 12-year-old blue heeler and bit of car camping gear to spend a month driving around Colorado. We went to check out some of the most iconic mountain towns to find "The Spot" in each!
Here's my process including some tips and tricks learned along the way. Hopefully they help in planning your own adventure!
For me, every great Trail Running Getaway begins with deciding the "where". It might be a town I've heard good things about or an iconic trail I want to run. Next, I'm looking for nearby primitive camping options because a) Less people b) Less hassle than traditional campsites c) Less money (free!). I'll also start researching nearby trails and running routes using Google and the AllTrails app. Finally, I'll triangulate those trails with my camping options and the proximity to town. The best camp location to service my needs gets circled as "The Spot".
In short, it's a lot of computer time but it's always worth it when I'm out there! These incredible locations will often times be in remote places, so putting a plan together and passing it along to a friend is always a safe practice. If you're in Colorado and want an amazing 2-6 day trip here is your short-cut to 3 great Spots!
*Note all of these locations are accessed by dirt roads which are sometimes rocky, but all are accessible without a 4-WD vehicle.
Telluride
Camp Location: Alta Lakes
Distance to town: 13 miles (45 minutes)
Trails: Alta Lakes sits on the backside of the Telluride Ski Mountain. Take the nearby Turkey Creek Trail or Ghostown OHV Rd to the frontside of the mountain and you have access to all of the great cross-country mountain bike trials!
Don't miss trail: Prospector Loop
Notes: Limited cell service, water available for filtration, great nearby hikes
Vail
Camp Location: Piney Lake and the various nearby dirt roads
Distance to town: 13 miles (50 minutes)
Trails: A whole network of dirt roads around these parts. Find a campsite with a good view and go exploring from there!
Notes: This area gets crowded on summer weekends so claim your spot mid-week and have your choice. Be aware of hunting season for smaller crowds and a safe run!
Crested Butte
Camp Location: Washington Gulch Road
Distance to town: 10 miles (30 minutes)
Trails: Nearby goodies include Snodgrass, Upper Loop and a tough 20+ mile loop around Mount Baldy
Notes: Campsites of various sizes are just off the road. Intermittent cell service and water available for filtration. You might have cows grazing through camp, they're harmless but can be intimidating at first!
Venture Beyond the Pavement with the BOCO AT 5
Rain, snow and hail are no match for the durable, water-resistant and breathable upper. The light and level 3mm drop, and multi-directional lugs, will maintain long-distance grip and comfort on the rockiest of trails.