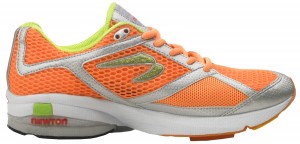 Shoe Geometry 101 – Running Shoe Re-Evolution
natural running
running form
running science
shoe design
16 December 2009
At the start of the first American running boom in the 1970s, most people were running in fairly lightweight shoes that consisted of a rubber outsole a thin foam midsole and a lightweight nylon upper. Although simple by today's standards, some of those early shoes were pretty good at allowing the foot to move naturally without the need for excessive muscular force and allowed a runner to obtain afferent feedback from each foot's interaction with the ground.
As footwear technology advanced over the years, running shoes generally became cushier, softer, thicker, heavier and, in some respects even more comfortable. But, while some of the innovations were driven by performance, the end result in many cases was anything but performance-oriented. And that's why, 30 years later, thousands of runners run with inefficient mechanics predicated on a heel-striking gait. Not only is that form not optimal for running fast, it can also lead to numerous overuse injuries.
The biggest culprit of modern running shoe design is that most training shoes have large, overbuilt heel crash pads that encourage and really only allow a heel-striking gait. Even if you wanted to run with a natural midfoot/forefoot stride pattern, the geometry and heel height of many shoes will not allow your foot to land naturally or parallel to the ground because the hefty heel gets in the way.
What is Natural Running?
Simply put, natural running is the way the human body was meant to run in its purest form – namely, barefoot – across a solid surface. That means running with efficient mechanics centered around landing lightly on the midfoot/forefoot (the ball of the foot, but not the toes) and quickly lifting your foot off the ground instead of pushing off with excessive muscular force.
In order to accommodate that style of running, a runner needs to be able to feel the ground and interact with it accordingly just as when barefoot.
And to do that, the runner needs to be wearing lightweight, minimally designed running shoes. The afferent feedback from feeling the ground encourages your body to run with light footsteps, upright posture, a relaxed arm swing and a slight forward lean.
That important feedback is obtainable via minimalist, lightweight running shoes designed to allow the foot to strike the ground with a natural midfoot/forefoot gait but is impossible to receive wearing thickly cushioned shoes and a heavy heel-striking gait. Practicing natural running form can be simple, but it may take time to unlearn old habits and learn proper technique. Ultimately, natural running can help make a runner stronger, more efficient and less prone to overuse injuries.
What Are Minimalist Shoes?
Minimalism in its simplest form involves picking shoes that allow the foot to move more naturally than standard shoes allow. But not all minimal shoes are created equal. Newton Running shoes were designed to be an extension of the feet, enhancing ground contact without the jarring impact shock of the road, sidewalk or hard-packed trail below.
Newton's reduced heel height and sleek geometry allows the shoe to stay out of the way as it approaches the contact with the ground, and along with enhanced forefoot communication, allows the runner to strike lightly at the midfoot/forefoot instead of using a heel-striking motion that requires heavy breaking and excess muscular force.
Newton Running's patented Action/Reaction Technology™ encourages natural running or a barefoot running gait and enhances the shock absorbency, leverage and energy return throughout the gait cycle, ultimately helping achieve a faster cadence and more efficient mechanics. Newton's independent lab research shows the system returns up to 28 percent more energy and reduces impact up to 44 percent when compared to training and racing shoes offered by leading running brands.
Practicing natural running form can be simple, but it may take time to unlearn old habits and learn proper technique. But it also requires having the appropriate footwear to allow your body to run the way it was designed to run. Once you learn to run naturally, you'll put yourself in position to run faster and healthier for the rest of your life.
Click here for a video about Choosing the Best Shoes for Your Needs.